Подача статей





Bobrova V.V., Mordvinova M.G.
THEORETICAL BASIS OF INNOVATIVE-INVESTMENT AND INTEGRATION STRATEGY OF FOOD COMPLEX STEADY DEVELOPMENT
This paper highlights the system of active problem — oriented project management, its essence and structure. The conditions of this system effective performing are analyzed.
Key words:
the system of active problem–oriented project management, innovative-investment renovation of branches' contours, innovative system elements.
References:
1. Bobrova V.V. Reserves of competitiveness increase and steady development of regional agro systems' food complex (experience, theory and management, methodology). Dissertation for Ph.D. in Economics, Saratov. RAN Institute of agrarian problems, 2009.p.150-165.
2. Karpochev N.Y. Organizing — economic basis of active integration strategy of an enterprise in particular environment. Abstract of dissertation for doctorate in Economics, Saratov. SGSEU. 2008.
3. Problem– oriented management of scientific-technical process on the basis of human factor efficiency (Methodical recommendations). SPb, 2008. P.4-9
4. Semyonov S.N. About the conception of steady development of regional agro systems and food stuff security // Socio-economic problems of population, employment and transition to steady development. Materials of International practical-scientific conference, Volgograd, 2009.P.173-174.
5. Yasin E.G. How to raise Russian economy. — M.: Vita-Press, 2006.
About this article
Authors:

Bobrova V.V., Mordvinova M.G.



Year:

2012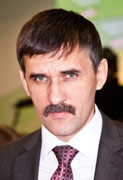 Editor-in-chief
Sergey Aleksandrovich
MIROSHNIKOV