Подача статей





Kostrukov A.V., Skachkov K.S.
COMMUNICATIVE SKILLS AS A MEAN TO DEVELOP TRACK RECORDS IN YOUTH TABLE TENNIS
The article describes how communicative skills effect sport training of table tennis players.
Key words:
communicative skills in sports.
References:
1. Zimnaya I.A. Upbringing strategy in Russian education system: approaches and challenges/ I.A. Zimnaya. — Moscow: Publishing Center, 2005. — 480 p.
2. Barchukov I.S., Nesterov A.A. Physical culture and physical training/ I.S. Barchukov, A.A Nesterov, — Moscow, 2007. — 432 p.
3. Cannova P. Social and cultural education of modern youth in sports// Social and cultural education technologies for personality development: materials of the All-Russia theoretical and practical conference with international speakers/ ed. E.I. Tikhomirova, St. Petersburg — Samara: Publishing house AC Gard, 2011, — pp. 223 — 225.
4. Matitsin O.V. Many years training in table tennis / O.V. Matitsin. — Moscow, 2001.
5. Genov F.P. Psychological characteristics of sportsmen mobility/ F.P. Genov. — Moscow: Physical training and sports, 2006. — 176 p.
6. Leontiev A.N. Activity. Mentality. Personality/ A.N. Leontiev. — Moscow: Smisl, 1977. — 304 p.
7. Mudrik A.V. Personality socialization/ A.V. Mudrik. — Moscow: Publishing house "Academiya", 2006. — 304 p.
About this article
Authors:

Kostryukov A.V., Skachkov K.S.



Year:

2012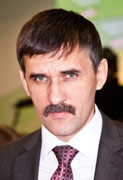 Editor-in-chief
Sergey Aleksandrovich
MIROSHNIKOV