Подача статей





Erofeeva N.E., Sholohova G.P., Kuvandykova L.Z.
SCHOOL (ACCORDING TO SURVEYS OF STUDENTS AND TEACHERS)
In the article features of the organization of the asynchronous form of independent work of students are considered, is given aspect the analysis of results of high school questioning of a condition of independent work in Orsk humanitarian-pedagogical institute (branch)OGU.
Key words:
asynchronous form of independent work, educational process, out-of-class work, an educational route.
References:
1. Petuhova, T.P., Glotova, M.I. Development of information competence of students of independent work (on an example of a direction 260000). — Orenburg, 2009. — 149 p.
2. Kupriyanova, G.V. Educational program as an individual educational route//the Individualization in modern formation: the Theory and practice. — Yaroslavl, 2001.
3. Legnina, L.V. Individual an educational route as an innovation in vocational training of teachers-psychologists / of L.V.Lezhnina // Standards and monitoring in formation. — 2009. — №2. — P.21-25.
4. Chernaya, А.V., Chekunova, Е.А., Pogorelova E.I. The Organization of independent work of students on psihologo-pedagogical disciplines: the Manual. — Rostov-on-Don, 2010. — 200 p.
5. Innovative technologies in formation: the theory and practice. The monography. Book 5. / E.A.Komarova, S.S.Korneenkov, U.I. Molotkov (etc.); The editor-in-chief Y.A.Maximov. — Krasnoyarsk: the Scientifically-innovative centre, 2011. — 292 p.
6. Petuhova, T.P. Designing of the kompetentnostno-focused asynchronous independent IT– work of students // Higher Education Today. — 2011. — №6. — P. 50-54.
About this article
Authors:

Erofeeva N.E., Sholohova G.P., Kuvandykova L.Z.



Year:

2012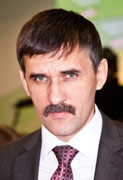 Editor-in-chief
Sergey Aleksandrovich
MIROSHNIKOV