Подача статей





Konichev V.A.
THE EFFECTIVENESS OF THE MANAGER — THE SUCCESS OF THE ENTERPRISE
Current problem is considered in this paper concerns the formation of an integrated system of labor organization personnel manager on the effectiveness of which curled success of any enterprise.
Key words:
personal effectiveness of managers and managerial work, professionally important qualities of a manager, a successful leader, an effective leader, self-awareness, Self-management, the criteria for effective management.
References:
1. Bakirova, G.H. Training of personnel management / G.H. Bakirov. — Saint-Petersburg: Speech, 2004. — 400 p.
2. Woodcock M., Francis D. Liberated Manager. For head-practice / M. Woodcock, D. Francis. — M.: The Case, 1991. — 320 p.
3. Kabushkin, N.L. Fundamentals of Management: Textbook. manual for schools / N.L. Kabushkin. — Mn.: New Knowledge, 2004. — 336 p.
4. Kushnerova, Yu.Yu. The development of cooperative reflection in the learning process management [Electronic resource] / Yu.Yu Kushnerova / / Ways of becoming the subject of the information society. All-Russian Scientific Conference of the Internet. — Stavropol: Stavropol State University, 2004. — Mode of access: http://conf.stavsu.ru/conf.asp?Reportld=232.
5. Nosovich, L.E. The conceptual framework for the assessment of professionalism of the manager in the management personnel of the enterprise: Abstract. thesis. Candidate. Sociology. Science / L.E. Nosovich. — Moscow, 2006. — 130 p.
6. Personal management: a textbook / S.D. Reznik, S.N. Sokolov, F.E. Udalov, V. Bondarenko: under Society. ed. S.D. Reznik, the Ministry of Education of Russia, Penza State. Arhiterktur.-building. Acad. and others. — Moscow: INFRA-M, 2004. — 662 p.
7. Practical management: Textbook. manual / Ed. E.M. Korotkov. –Moscow: INFRA-M, 2010. — 310 p.
8. Pryazhnikov, N.S. Work Psychology / N.S. Pryazhnikov, E.Y. Pryazhnikova. — Moscow: The Academy, 2009. — 480 p.
About this article
Author:

Konyshev V.A.



Year:

2012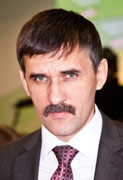 Editor-in-chief
Sergey Aleksandrovich
MIROSHNIKOV