Подача статей





Ahmedyanova G.F.
FORMING PROFESSIONAL COMPETENCE ON THE BASIS OF PEDAGOGIC PLANNING (DESIGNING) AND ORGANIZING ACADEMIC ACTIVITY
The article presents the investigation of pedagogic planning (designing) phenomenon. Its role is gaining more and more importance with the increase of a competence approach. The process of planning (designing) the modular strategy of teaching on the basis of coordinating technological and creative components of academic activity is considered as a specific application.
Key words:
competence, pedagogic planning(designing), pedagogic technology, creativity, strategy of teaching, metasystem approach.
References:
1. Rostovtseva, V.M. Competence and competencies: hermeneutical aspect within diversification of modern education. — Tomsk: TPU jointly with ICHA "KIT", 2009. — 261 p.
2. Rumbeshta, E.A. Theory and methods of teaching physics. Modern technologies in teaching physics / E.A. Rumbeshta, T.V. Alnikova. — Tomsk: TGPU, 2008. — 176 p.
3. Kagan, M.S. Philosophy of culture / M.S. Kagan. — S. Pb., 1996. — 260 p.
4. Polat, E.S. Modern pedagogic and information technologies in the system of education / E.S. Polat, M.Y. Bukharina. — M.: Akademia, 2007. — 68 p.
5. Mukhanov, S.A. Structural approach to integrated academic process: applied to profile courses of the faculty physics and mathematics: dissertation abstract, Ph.D. in pedagogics. — Moscow, 2003. — 25 p.
6. Mironov S.V., Pishchukhin A.M. Metasystem approach in management. — Orenburg, 2005. — 336 p.
7. Klir, J. Automatization system problems solving. — М.: Radio and Connection, 1990. — 544 p.
About this article
Author:

Ahmedyanova G.F.



Year:

2012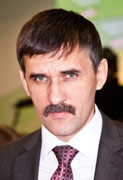 Editor-in-chief
Sergey Aleksandrovich
MIROSHNIKOV