Подача статей





Seregin А.А.
ANALYSIS AND SYNTHESIS OF MODEL OF PRODUCTION EQUIPMENT MANAGEMENT WITH LIMITED PRODUCT RANGE
The author presented a general statement of the problem of constructing structural models of the stage of "exploitation" of technological equipment and gave empirical data to reduce the technological precision of large and heavy machines locomotive factories. On the basis of long-term observations the author suggested structural model of the "exploitation" stage of machines and devices.
Key words:
Planned preventative maintenance, performance, process module, process accuracy, maintenance of equipment.
References:
1. Penetrating, AS Increased longevity of machine tools [Text] / A. Penetrating. — Moscow High School, 1961. — 155 p.
2. Penetrating, AS To determine the optimal structure of the repair cycle of the equipment [Text] / A. Penetrating / / Journal of Mechanical Engineering. — 1953. — № 1. — M: Mechanical Engineering. — 1953. — S. 74 — 78.
3. A typical system maintenance and repair metal and woodworking machinery / under. Ed. VI Klyagina, FS Sabirov. — Moscow: Mashinostroenie, 1988. — 672 p.
4. Ilitsky, VB Machine-tool accessories. Design and engineering support of operational properties [Text] / VB Ilitsky, V. Mikityansky, LM Serdyuk. — Moscow: Mashinostroenie, 1989. — 208 p.
5. Giants, KM Determination of cost-effectiveness of options for machining [Text] / KM Giants. — L.: Mechanical Engineering, 1970. — 240.
About this article
Author:

Seregin A.A.



Year:

2012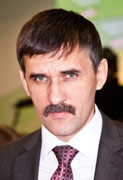 Editor-in-chief
Sergey Aleksandrovich
MIROSHNIKOV