Подача статей





Keidiya K.Z.
PHILOSOPHICAL UNDERSTANDING OF IDENTITY IN THE STRUCTURE OF PERSONALITY-EXISTENCE
The article is devoted to the identity of modern man. Self-identification is considered as a process of relating oneself to oneself, resulting in the submission of the form of itself as a self-identity, an integral and unique personality. The author identified areas of difficulty in understanding the process of self-identification and correlation of himself as "I" with the true image of "I".
Key words:
identity, self-identity, individuality, self- identifiability, modernity, postmodernity.
References:
1. Marx, K. Selected Works: in 3 volumes / Karl Marx, Friedrich Engels. — M.: In litizdat, 1981. — V.3.
2. Marcuse, H. Eros and Civilization. Dimensional Man / Herbert Marcuse. — Moscow: AST, 2003. — 526 with.
3. Susi, P. Nation, culture and identity crisis: essays on multicultural Societies / P. Souci // Ethnicity. The national movement. The social practice: Collected papers. — St. Petersburg.: Petropolis, 1995. — S. 60-70.
4. Fromm, E. The problem of man in Western philosophy. / Erich Fromm. — M.: Pro-gress, 1988. — 452.
5. Fromm, E. "Have" or "be" / Erich Fromm. — Moscow: AST, 2008. — 314 with.
6. Heslov, V. The crisis of individual and collective identity / V. Heslov / / Problems of Philosophy. — 1994. — №10. — S. 112-123.
7. Yadov, V. Symbolic primordial solidarity (social identity of identification) in the context of rapid social change / V. Yadov // Problems of theoretical sociology. St Petersburg.: Petropolis, 1994. — With. 169-183.
8. Giddens, A. Modernity and self-identity. — Stanford (Calif.): Stanford univ. Press, 1991.
About this article
Author:

Keidiya K.Z.



Year:

2012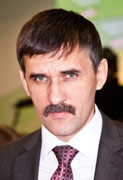 Editor-in-chief
Sergey Aleksandrovich
MIROSHNIKOV