Подача статей





Gorokhov P. A., Keidiy K. Z.
IDENTIFICATION AS THE IMMANENT LINE OF THE SOCIAL LIFE [№ 7 ' 2012]
This article focuses on the identification of human sotsiu meson, which is defined as the process of human evolution based on the selection and shaping of life models in social interaction for the sake of personal identity.
Gorokhov P.A., Keidiy K.Z.
SOME ASPECTS OF THE HISTORY OF THE "SELF"-PROBLEM IN THE PHILOSOPHICAL CONTEXT OF IDENTITY [№ 2 ' 2012]
This article extends the author's concept of rotation, which occurred in the understanding of the problem of "self" in the transition from Antic times and the medieval philosophy to modern times. The "self" is treated as a coordinated regulation of ontogenetic development of self-consciousness, but also as a symbol of the principle of personal development.
Keidiya K.Z.
PHILOSOPHICAL UNDERSTANDING OF IDENTITY IN THE STRUCTURE OF PERSONALITY-EXISTENCE [№ 1 ' 2012]
The article is devoted to the identity of modern man. Self-identification is considered as a process of relating oneself to oneself, resulting in the submission of the form of itself as a self-identity, an integral and unique personality. The author identified areas of difficulty in understanding the process of self-identification and correlation of himself as "I" with the true image of "I".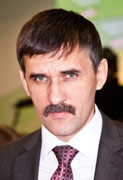 Editor-in-chief
Sergey Aleksandrovich
MIROSHNIKOV