Подача статей





Frolov A.V.
ORGANIZATIONAL — ECONOMIC TOOLS FORMATIONS CLUSTERS IN REGIONAL ECONOMY
It is defined that in the conditions of an economic crisis and postcrisis development of regional economy has ripened necessity of perfection of the working model of social and economic relations on a basis clustered the mechanism of the management providing communication of the interfaced enterprises of various branches of economy, mutually promoting growth of competitiveness of regional economic system. Use clustered the approach to management that will allow to provide economic benefit at the expense of information interchange about the market, technologies is offered, to updating of motivations and quality of the human capital and will lead to creation of possibility of innovative development of the enterprises.
Key words:
clustered a policy, clustering, region, regional economy, management.
References:
1. Zhukov, B.M. Klastery as the tool of economic development of regions // Problems of management of development of the organization and experience of preparation of managers: the collection of scientific articles. — Krasnodar: UIM, 2009. — Р. 151–152.
2. Pankov, V.S. Methodology realization кластерных technologies in system of regional management // Business in zakone. — 2010. — №1. — Р. 271–274.
About this article
Author:

Frolov A.V.



Year:

2011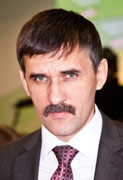 Editor-in-chief
Sergey Aleksandrovich
MIROSHNIKOV