Подача статей





Tyakova Z.S., Popova E.S.
DEVELOPMENT OF DOCUMENTARY SUPPORT FOR ACCOUNTING OF INVESTMENT-CONSTRACTION ACTIVITY
In clause problems of qualitative registration of primary documents under the account of incomes and charges in the construction organizations are considered, additions and the specifications offered for entering into operating unified primary documents prove, the maintenance of the new forms of documents developed by authors which consider changes of specificity of investment-construction activity and its нормативно-legal regulation is stated.
Key words:
construction, primary registration documents, requisites of documents, building branch, investment and building activity, capital construction, civil and erection works, starting-up and adjustment works, давальческие materials, book keeping, the tax account, accounts, proceeds.
References:
1. The Civil Code of the Russian Federation. — М.: Infra-М, 2005. — 512 р.
2. Resolution of the appellate court to verify the legality and validity of decisions (resolutions) of arbitration courts, have entered into force on FAS BCO 24.01.2007 №A19-17307/06-24-F02-7451/06-S1. [Electronic resource ATP "Consultant +"].
3. Resolution of the Russian State Statistics Committee of November 11, 1999 №100 "On Approval of unified forms of primary documentation work on accounting for capital construction and repair and construction works".
4. Resolution of the Russian State Statistics Committee of 30 October 1997 №71a "On Approval of Forms of primary records for accounting and remuneration, fixed assets and intangible assets, materials and low value items, works in capital construction".
5. Adamov N.A., Chernyshev V.E. Problems of organization of accounting in the construction // All for accountants. — 2005. — №1. — Р. 19–25.
6. Adamov, N.A. Accounting for construction. — 2nd ed. — St. Petersburg: Peter, 2004. — 672 p.
7. Dementiev, A.J. Accounting and taxation in the construction. — St. Petersburg: Peter; M.: Publishing house BINFA, 2008. — 256 p.
8. Kulikova, L.I. Professional opinion in the maintenance of Kisilevich T. I. Non-standardized forms of primary records in the accounting and tax accounting // Audit and Financial Analysis. — 2009. — №5. — Р. 39–48.
9. Kulikova, L.I. Records accounting for construction contracts / L.I. Kulikova // Accounting. — 2010. — №6. — P. 35–41.
About this article
Authors:

Tuyakova Z.S., Popova E.S.



Year:

2011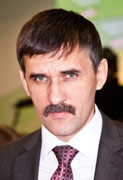 Editor-in-chief
Sergey Aleksandrovich
MIROSHNIKOV