Подача статей





Ivanova N.A.
THEORETICAL APPROACHES TO THE STUDY OF THE HOUSEHOLD AS AN ECONOMIC ENTITY
Household research from a position of this or that branch of the economic theory reveals only its separate characteristics inherent in it at certain steps of development as institute or the economic subject. There is the attempt to prove necessity of the concrete historical and complex theoretical and methodological approach to its studying which will allow to reveal essential lines and housekeeping functions as the subject of certain type of economic system is made in the article.
Key words:
household, the economic entity, institute, family, the individual.
References:
1. Bekker, G. Economy of Family and Macrobehaviour / G. Bekker // the USA. Economy, Policy, Ideology. — 1994. — №2. — P. 99–107.
2. Buzgalin A.V., Kolganov A.I. The Theory of Social and Economic Transformations (the Past, the Present and the Future of Economy of "Real Socialism" in the Global Postindustrial World): the textbook / A.V. Buzgalin, A.I. Kolganov. — M.: TEIS, 2003. — 680 p. — ISBN 5-7218-0300-2.
3. Bulganina, S.N. The nature and structure of economic entities: monograph / S.N. Bulganina. — Orenburg: OSU, 2003. — 206 p. — ISBN 55-7410-5698-9.
4. Zider, R. Social History of Family in the Western and the Central Europe (the end of XVIII–XX centuries) / Transl. from Germ. — М.: Humanit. publishing. center VLADOS, 1997. — P. 302. — ISBN 5-691-00016-0.
5. Maznaya, E.A. Household in the System of Economic Attitudes of the Society: Synopsis of a Thesis for a Degree of Ph.D in Economics / E.A. Maznaya. — Samara, 2006. — 22 p.
6. Nureev, R.M. Economic Entities of Postsoviet Russia: in 3 parts / R.M. Nureev. — Moscow General Scientific Foundation, 2003. — 320 p. — ISBN 5-89554-248-4.
About this article
Author:

Ivanova N.A.



Year:

2011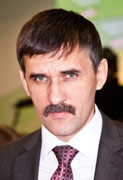 Editor-in-chief
Sergey Aleksandrovich
MIROSHNIKOV