Подача статей





Dokashenko L.V., Bobrova V.V.
THE ROLE OF HUMAN RESOURSES IN INNOVATION ECONOMY DEVELOPMENT
In the article qualitative characteristics and the role of human resources able to generate and implement new ideas and modern technologies into innovation process are determined and peculiarities of human resources control function in innovative organization are considered.
Key words:
human resources, innovation, innovation process, resources of innovation development.
References:
1. Native science and scientific policy at the close of the ХХ century: Tendency and peculiarities of development / Editorial board L.M. Gokhberg. — M.: The Modern History Foundation; Publishing house of Moscow University, 2011. — 320 p.
2. Statistical Year-book 2009. — M.: Publishing house "Rosstat", 2009. — 795 p.
3. Medvedev, D.A. The Message to the Federal Assembly of Russian Federation, the 12th November, 2009.
4. Trends of human recourses potential development in Russian science. Institution of science development problems of Russian Academy of Science. — M., 2008. — Р. 7.
5. Gorelov N.A., Sinov V.V. Innovative Labor Development: Tutorial. — SP.: Publishing house of SPGUEF, 2001. — 113 p.
6. Gildingersh M.G., Potemkin V.K., Poskochinova O.G. The management of Innovations: Tutorial. — SP.: Publishing house of SPGUEF, 2009. — 84 p.
7. The Indicators of Science: 2009. Statistical Year-book. — M.: MSU–HSE, 2009. — 352 p.
8. A Strategy for American Innovation: Driving Towards Sustainable Growth and Quality Jobs. — September. — 2009, pp I-II.
9. Global Research Report: India/ Thomson Reuters. — November. — 2009.
About this article
Authors:

Dokashenko L.V., Bobrova V.V.



Year:

2011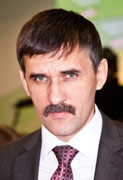 Editor-in-chief
Sergey Aleksandrovich
MIROSHNIKOV