Подача статей





Rusanov A.M., Anilova L.V.
DYNAMICS OF RECOVERY OF MAJOR PROPERTIES OF DEGRADED SOIL REMEDIATION METHOD FOR THEIR SOIL-PLANT MONOLITHS
Study the recovery of degraded chernozem properties using the soil-plant monoliths made since 2008. During the two-year period of the experiment there is a change of vegetation and the positive dynamics of humus status and physical properties of soils.
Key words:
degraded soils, reclamation, the method of soil-plant monoliths, humus state of soils.
References:
1. Gerasimov I.P. Dokuchaev Doctrine and the Present (Scientific basis of conservation agriculture) / I.P. Gerasimov. — Moscow: Nauka, 1986. — 128.
2. Dobrovolsky G.V. Functions of soils in the biosphere and ecosystems / G.V. Dobrovolsky, E.D. Nikitin. — Moscow: Nauka, 1990. — 261.
3. Krupenikov I.A. Soil cover of Moldova. Past, present, manage, forecast / I.A. Krupenikov. — Chisinau: Shtiintsa, 1992. — 264.
4. Rusanov A.M. Prospects for preservation and restoration of properties and ecological functions of soil for agricultural purposes// Ecology, 2003. Number 1. — P.12-17.
5. Rusanov A.M., Safonov M.A., Anilova L.V. Prospects for the rehabilitation of degraded agricultural landscapes by soil-plant monoliths // Bulletin of OSU. — 2009. — Materials IV Vverossiyskoy scientific and practical conference "Problems of ecology of the Southern Urals", Part II.- S. 334-336.
6. Rusanov A.M. Anilova L.V. Humus Formation and Humus in Forest-Steppe and Steppe Chernozems of the Southern Cisural Region// Eurasian Soil Science — 2009, Vol. 42, № 10. pp. 1101-1108.
About this article
Authors:

Rusanov A.M., Anilova L.V.



Year:

2011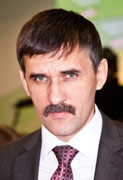 Editor-in-chief
Sergey Aleksandrovich
MIROSHNIKOV