Подача статей





Klimenkova P.O.
COMPARATIVE CHARACTERISTICS OF SOIL PHYSICAL PROPERTIES OF DIFFERENT TYPES OF CHERNOZEMS ORENBURG
Density, permeability, and maintenance of soil agronomically valuable aggregates were studied in the Orenburg region of typical chernozem, ordinary divergent slopes and southern black soils. These physical properties of black nozemah are optimal. The results showed that physical factors such as structural condition, soil density and water permeability, and typical chernozem chernozem ordinary northern slopes are much better data than the southern black soil and ordinary chernozem southern slope.
Key words:
ecology of soils, land cover, physical properties, structural condition of soils, streams.
References:
1. Vadyunina AF Methods for studying the physical properties of soils. / AF Vadyunina, Z. Korchagin. — Moscow: Agropromizdat, 1986. — 256.
2. Voronin, AD Fundamentals of soil physics. / AD Voronin. — Moscow: Moscow Univ. Press, 1986. — 270.
3. Rusanov AM Effect of slope asymmetry on the properties of soil and soil-cover venny Orenburg Ural region / AM Rusanov, MA Koval / Journal OSU, №4, 2006, p.111-114.
4. Rusanov AM Functioning and evolution of soils in the landscape of the asymmetry / AM Rusanov, EV Shein / Proceedings of the Second National Conference with international participation "The problems of history, methodology and philosophy of Soil Science": Pushchino, 2007, Vol. 2. — S. 240-243.
5. Shein EV Rate of soil physics. / EV Shein.-M.: Moscow Univ. Press, 2005. — 345.
6. Shein EV Theory and Methods of soil physics. / EV Shein, LO Karpachev-sky. — Moscow: Grif i K, 2007. — 616.
About this article
Author:

Klimenkova P.O.



Year:

2011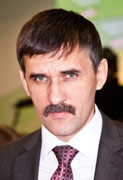 Editor-in-chief
Sergey Aleksandrovich
MIROSHNIKOV