Подача статей





Korobejnikova A.A., Pykhtina IU.G.
THE GAME AS INDIVIDUAL SPATIAL IMAGE IN LEONID ANDREEV 'S STORY "BIG HELMET"
The article considers the artistic space in Leonid Andreev 's story "Big helmet". Following the accepted linguistic theories of space perception, the authors define the game as an individual space image, which can be modelled by the author.
Key words:
artistic literary space, perceptive space, individual spatial images, Russian literature, Leonid Andreev.
References:
1. Altman J.A., Voytulevich S.F., Pack S.P. Inter-hemispheric asymmetry of the human acoustic potential and sound source positioning // Sense systems, sensorial processes and hemispheric asymmetry. — L., 1985. — P. 88–99.
2. Bezzubov V.I., Karlik L.S. Artistic space in Leonid Andreev's prose 1898-1904 // Russian literature typology and Russian-Estonian literary connection problems. Works on Russian and Slavonic philology. Literature study. Scientific works, Ed.491. — Tartu, 1979. — P. 59–83.
3. Lihachev, D.S. Literary space of the artwork // Simposium "Problems of rhythm, artistic time and space" –annotations. — L.: Soviet writer,1970. — P. 7–9.
4. Lihachev, D.S. Ancient Russian poetics. Third edition.– M: Science, 1979. — 352 p.
5. Lotman J.M., Artistic space in Gogol's works // In poetic school: Pushkin, Lermontov, Gogol. Teacher's book. — M.: Prosveschenye, 1988. — P. 252–253.
6. Neizvestny, E. Kentavr: about science, literature and philosophy. — M., 1992. — P. 153.
7. Raushenbakh, B.V. Picture geometry and visual perception. — St.P.: 2001. — P. 320.
8. Slepuhov, G.N. Spatial-temporal organization of the artwork // Philosophical science. — 1984. — №1. — P. 64–70.
9. Toporov, V.N. Myth. Ritual. Symbol. Image: mythoepic research. — M.: Progress. Culture, 1995. — P. 624.
About this article
Authors:

Korobeynikova A.A., Pyhtina Yu.G.



Year:

2011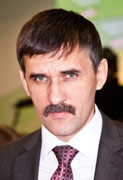 Editor-in-chief
Sergey Aleksandrovich
MIROSHNIKOV