Подача статей





Zyuk M.A.
ESTIMATION OF SINERGETICHESKY EFFECT OF VIRTUAL INTEGRATION CHAINS OF SOCIAL AND ECONOMIC SUBJECTS OF REGION
In article the estimation mechanism synergetic effect of steady interactions of social and economic subjects of region forming an integration chain and through business process is presented. Interactions are carried out within the limits of the virtual integration platform functioning in economic-information field region, as segment of a global information infrastructure.
Key words:
integration, network economy, economic-information space region, virtual business process, through business process, multyagent systems.
References:
1. Ansoff I. Strategic management. The classical edition. — С.Пб: Peter. — 2011.
2. Arshinov V.I. On a way to postnonclassical concepts of management. — Internet resource: http://www.i-u.ru/biblio/archive/arshinov_na/.
3. Zhang W.B. Synergetic Economics. М: the World. — 1999, 354 p.
4. Kleyner G.B. Development of the theory of economic systems and its application in corporate strategic management. The Central economic-mathematical institute, the Russian Academy of Sciences the Pre-print #WP/99/2010. Moscow. — 2010, 117 p.
5. Kusnethov S.I. Open systems, processes of standardization and profiles of standards. — Internet resource: http://www.citforum.ru/database/articles/art_19.shtml.
6. Malinetsky G.G. New shape of nonlinear dynamics. — М: the Nature. — 2001, № 3 — the Internet a resource: http://vivovoco.rsl.ru/VV/JOURNAL/NATURE/ 03_01/NUM3-03-12.PDF.
7. Parinov S.I. To the theory of network economy. Novosibirsk: ИЭОПП the Siberian Branch of the Russian Academy of Science. — 2002, 245 p.
8. Tchekmaryov V.V. To the theory of economic space // Izv. St.-Petersburg. Un y economy and the finance. — 2006. — № 3. — P. 27-45.
About this article
Author:

Zhuk M.A.



Year:

2011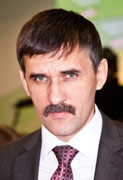 Editor-in-chief
Sergey Aleksandrovich
MIROSHNIKOV