Подача статей





Semenov S.N., Bobrova V.V., Semenov K.M., Vasilyeva A.D.
ON THE MODERNIZATION OF AGROINDUSTRIAL PRODUCTION
In the article the factors and the reserves for an increase in the effectiveness in competitive ability and modernization of agroindustrial production are examined. As the reserves the authors separate the accelerated integration and intensification. These processes must complexly and systemically cover functionall, productive, territorial-production, organizational-administrative and social-economic structures of Agro-Industrial Complex.
Key words:
innovation breakthrough, intensification, the steady development of the agribusiness, the reserves for an increase in the effectiveness.
References:
1. Solovov DP, Zhuravlev, DY Effect of bacterial preparations on the fertility of the soil / / Strategy interaction of microorganisms and plants to the environment. IBPPM Academy of Sciences, 2008. P. 62.
2. Kridius VA, VV Cherlyanina Diversification and revitalization of the rural economy / / Agriculture in the modern economy: a new role, growth factors, risk. M, 2009. S. 14-15.
3. NI Vavilov Selection as a science. M., L. Selkhozgiz, 1934. P. 16.
4. Arguments and Facts. № 11 (1584), 2011, p. 1.
5. Health of the Nation — home value. M.: ANO "Truth." 2009. № 1602. C. 10.
6. Semenov, SN, Vasiliev, AD, Ustinov TV Improving the quality of products and services of agricultural production in the implementation of food security doctrine, modernization and the innovative development of agriculture / / Actual problems and prospects of innovative agroekonomiki. Proceedings of the II All-Russian Scientific-Practical Conference. Saratov, 2010. P.163-173.
7. Vasiliev AD Ways of improving the organizational and economic mechanism of the integration management competitiveness and sustainable development of regional agricultural systems prey / / The 80th Anniversary of the Institute of Economics and agriculture. Saratov, 2010. S. 51-54.
8. Glazyev SN Accelerated development strategy in Russia amid the global crisis. Moscow: Economics, 2010. S. 154-157.
9. Regional Innovation Science and Technology five-year program of high technologies in the Saratov region in 2009-2013. Saratov, 2009. S. 68-71.
About this article
Authors:

Semenov S.N., Bobrova V.V., Semenov K.M., Vasilyeva A.D.



Year:

2011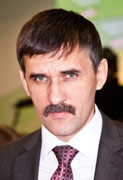 Editor-in-chief
Sergey Aleksandrovich
MIROSHNIKOV