Подача статей





Lapayev S.P.
THE ESTIMATION OF THE LEVEL OF THE INNOVATION DEVELOPMENT OF REGIONS ON THE BASIS OF CREATIVITY
The author conducted the analysis of the indices of the innovation development of the regions of Russia on the basis of the procedure, proposed by American economist R. Florida, which includes such indices as the index of talent, technologies and tolerance, and also the summary index of innovation development.
Key words:
creative class, the index of creativity, creative centers, tolerance, the summary index of innovation development.
References:
1. Charles Landry's Creative City. Moscow Classic XXI, 2005.
2. Proceedings of the National Population Census, 2002 (www.gks.ru).
3. Okara A. Creative Class as a partner state / / Nezavisimaya gazeta, 2009, December 22, № 9 (102), with. 12.
4. Pilyasov A., Kolesnikova, O. Assessment of creative potential of Russian regional communities / / Problems of Economics. 2008, № 9,. 54-55.
5. Russia's Regions, 2006. Stat. Collection / Rosstat. M., 2006.
6. Teterin NI A model of innovative development of the agro-industrial region: problems of theory and practice. Saratov: Izdat. esu Center, 2010.
7. Florida RV Creative Class people who are changing the future. Moscow Classic XXI, 2007. S. 23-24.
8. Schumpeter J. The Theory of Economic Development. Moscow, 1982.
About this article
Author:

Lapaev S.P.



Year:

2011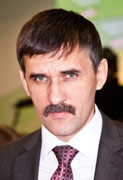 Editor-in-chief
Sergey Aleksandrovich
MIROSHNIKOV