Подача статей





Geger E.V.
THE ANALYSIS OF DISEASE OF A DIABETES IN AREAS OF BRYANSK AREA WITH VARIOUS DEGREE OF TECHNOGENIC POLLUTION
The analysis of disease is carried out by a diabetes of the population of the Bryansk area living in areas with various degree of anthropogenous pollution. The tendency to annual growth of the given disease is revealed.
Key words:
Anthropogenous pollution, disease indicators, эндокринная a pathology, the register sick of a diabetes.
References:
1. Diabetes. The report of research group the CART. A series of technical reports 727: the lane with English — M.-1987.-S.32-74
2. Gichev J.P../ Health of the person and environment: SOS! [Text] / J.P.Gichev//ISBN 5-94489-017-8, Moscow — 2007.187 with.
3. Grandfathers, I.I.problem of quality assurance diabetes the help in Russia by data for January, 2007 [Text] / И.И. Grandfathers, M.V.Shestakov//the Diabetes — 2008. — № 3 (40). — C.55
4. Grandfathers, I.I.Epidemiologija of a diabetes. The grant for doctors. [Text] / И.И. Grandfathers, T.E. Chazova, J.I.Suntsov//-Moscow. — 2003. — 68 with.
5. Fetisov S.N., medical of a consequence of Chernobyl accident: health of the population of Bryansk area (to the accident 20 anniversary on ЧАЭС). [Text] / S.N.Fetisov, A.D.Proshin, V.N.Doroshchenko//Bryansk. — 2006. — 248 with.
6. The state report "About a condition of a surrounding environment on Bryansk area in 2006" — Bryansk. — 2007. — 298 with.
About this article
Author:

Geger E.V.



Year:

2011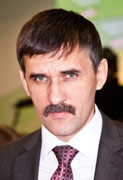 Editor-in-chief
Sergey Aleksandrovich
MIROSHNIKOV