Подача статей





Geger E.V.
THE ANALYSIS OF DISEASE OF A DIABETES IN AREAS OF BRYANSK AREA WITH VARIOUS DEGREE OF TECHNOGENIC POLLUTION [№ 4 ' 2011]
The analysis of disease is carried out by a diabetes of the population of the Bryansk area living in areas with various degree of anthropogenous pollution. The tendency to annual growth of the given disease is revealed.
Geger E.V.
ANALYSIS OF INFLUENCE OF ANTHROPOGENIC FACTORS OF THE ENVIRONMENT ON ECOLOGICALLY CONDITIONED MORBIDITY OF POPULATION LIVED ON THE TERRITORY WITH DIFFERENT DEGREE OF MAN-CAUSED POLLUTION [№ 12 ' 2009]
The analysis of harmful anthropogenic factors of the environment on morbidity of population from regions with different degree of man-caused pollution is conducted in this article. The author reveals the influence of radiation-chemical pollution of the environment on spreading of sicknesses having allergic nature.
Zolotnikova G.P., Geger E.V., Evelson L.I.
COMPARATIVE ANALYSIS OF BLOOD INDEXES OF BRYANSK REGION POPULATION, SUFFERED WITH ALLERGOPATHOLOGY AND LIVED ON RADIOACTIVE TERRITORIES [№ 12 ' 2007]
Modern ecological situation in Russia is unfavourable. High anthropoanthropogenic load of territories in aggregate with unfavourable social-economic situation in Russia creates real threat of ecologically dependent diseases distribution. The analysis of blood indexes at allergic diseases which connect with anthropogenic and radioactive pollution of environment is given in this article.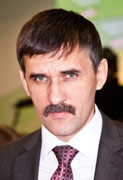 Editor-in-chief
Sergey Aleksandrovich
MIROSHNIKOV