Подача статей





Rybakova L.V.
AXIOLOGICAL PARAMETERS OF INFORMATIONAL-EDUCATIONAL SPHERE OF MODERN INSTITUTE OF HIGHER EDUCATION
In the article the interrelation of axiology and innovation in modern higher education is considered. The axiological function of education which consist in person's inner world formation, in finding the possible directions of development and self-development. The axiological parameters of the university information-educational environment, such as students' cognitive independence, the individualized training, the integration of information technologies into university educational process.
Key words:
axiology, axiological parameters, students' cognitive independence, training individualization, information technology, self-realization, information-educational environment.
References:
1. Kiriyakova, A. V. Interaction of axiology and innovation in the university education / A.V. Kiriyakova //Higher education in Russia. — 2007. — №12. — with. 59-64.
2. Kiriyakova, A. V. Pedagogical axiology and innovative processes in the training: the grant / A. V.Kiriyakova, G.A.Melekesov; M-in obrazovanija the Russian Federation, OGU. — М: the Company the Companion, 2004. — with. 104
3. Shelkunova, O.V. Creative self-realization of students in the training process of the high school [Text]: dis. … can. of ped. sciences: 13.00.01 / O.V.Shelkunova. — Irkutsk, 2005.
About this article
Author:

Rybakova L.V.



Year:

2011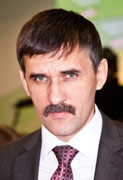 Editor-in-chief
Sergey Aleksandrovich
MIROSHNIKOV