Подача статей





Osiyanova O.M., Osiyanova A.V.
AXIOLOGICAL DIRECTION OF STUDENTS' TEACHING TO THE CULTURE OF SPEECH COMMUNICATION AT SUBJECTIVE-ORIENTATIONAL SYSTEM
The article presents the innovation system, ensuring teaching students verbal communication culture in the context of the personal and professional development within the educational process. The support on students' self-reliant orientation in the choice of significant aims and principles of the activity on the basis of existing and acquiring experience and knowledge defines the axiological trend of the system.
Key words:
the personality-oriented system of education, the system-personality-oriented approach, axiological orientations, verbal communication culture, person-to-person relations.
References:
1. Bezdukhov, V.P. Value orientations and cognitive structures in the teacher's activity / V.P. Bezdukhov, U.N. Kulutkin. — Samara: SamSPU, 2002. — 400p.
2. Kagan, M.S. The philosophical theory of the value / M.S. Kagan. — StP., 1997. — 205p.
3. Kiryakova, A.V. The theory of the person's orientation in the world of values / A.V. Kiryakova. — Orenburg: OSU, 2000. — 188 p.
4. Sagatovsky, V.N. The value foundation of the humanitarian exanimation / V.N. Sagatovsky // Humanitarian exanimation. Possibilities and perspectives. — Novosibirsk, 2000. — P.18-26.
5. Senko, U.V. Humanitarian foundations of pedagogical education: a lecture course: a teacher aid for students of high education / U.V. Senko. — M.: Academy, 2000. — 240 p.
6. Serikhov, V.V. Personally-oriented education: the search of a new paradigm / V.V. Serikhov. — M.: Pedagogics, 1998. — 187 p.
7. Smysina, M.L. Interactive studying of literature / M.L. Smysina. — L.: RSPU of Gertsin. — 1996. — 60 p.
8. Fromm, A. Anatomy of the human disruptiveness / A. Fromm. — M.: Republic, 1994. — 447 c.
About this article
Authors:

Osiyanova O.M., Osiyanova A.V.



Year:

2011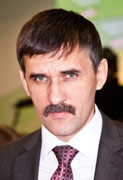 Editor-in-chief
Sergey Aleksandrovich
MIROSHNIKOV