Подача статей





Zaritskaya L.A.
PROFESSIONAL-LINGUISTIC DEVELOPMENT OF A FUTURE DESIGNER WITH MEANS OF A FOREIGN LANGUAGE
In this article the author gives the analyses of the training appliances and method recommendations concerning the professional-linguistic development with the help of English.
Key words:
professional-linguistic development, professional training, designer, linguistic education.
References:
1. Bakhtin, M.M. Aesthetics of verbal art. — M.: Art, 1986.–195p.
2. Bespalko, V.P. Fundamental theory of pedagogical systems.–Voronezh, 1977.–304p.
3. Borev, U.B. Aesthetics. Series "Higher Education". Rostov-na-Donu, Fenix, 2004.–704p.
4. Gladkich, V.G. Theoretically Fundamentals of target approach in operation by education institution. Orenburg, 2001.–351p.
5. Kiryakova, A.V. and other. Axiology of education. Fundamental research in Pedagogic.–M.: House of pedagogic, EII OSU, 2008.–375p.
6. Sakharova, N.S. Development of foreign language competence of university students. Monography.–Moscow, 2003.–206p.
7. Zaritskaja,L.A. Working program of the discipline "Advanced English" for the architectural-building faculty. — Orenburg: SEE OSU, 2008. — 26p.
8. Zaritskaja, L.A. Art and Design. — Orenburg: SEE OSU, 2005. — 112p.
9. Zaritskaja, L.A. Creativity development of the designers in the process of teaching English. Orenburg: SEE OSU, 2007. — 105p.
10. Zaritskaja, L.A. Aesthetic development of the future fashion designer in the process of teaching English. Orenburg: SEE OSU, 2010. — 119p.
About this article
Author:

Zaritskaya L.A.



Year:

2011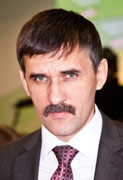 Editor-in-chief
Sergey Aleksandrovich
MIROSHNIKOV