Подача статей





Buresh O.V, Zhuck M.A.
THE APPROACH TO FORMATION ECONOMIC-INFORMATION FIELD REGION ON THE BASIS OF THE AGENT
In article formation pressing questions economic-information field region within the limits of realization of the state strategy of modernization and an intensification of a regional industrial policy are considered. The offered concept the agent architecture regional economic-information field allows to realize systems of support of decision-making of regional level, adaptive to environment changes.
Key words:
region, an information field, economic space, the agent, multiagent environment, knowledge bases, accumulation of knowledge.
References:
1. Runners Н. А, Klebanov B. I., Moskalev I.M. Technology of forecasting of development of municipal union with use of imitating model//Magazine "Automation and modern technologies" М: Mechanical engineering. 2009, №4. P. 39–45.
2. Ivanov E.J. Informatsija as a category of the economic theory. — http://rvles.ieie.nsc.ru: 8101/parinov/ivanov/ivanov.htm.
3. Kalinin A.E.core theoretical positions of development of an information field of economic system. The Volgograd state university. http://www.volsu.ru/s_conf/tez_htm/062.htm
4. Parinov S. To the theory of network economy//Problems of new political economy. — 2001, №1. — P. 17-38.
5. Prigozhin I. R., Stengers I. Porjadok from chaos. New dialogue of the person with the nature, М, 1986. — 312 p.
6. Tarasov V. B. From multiagent systems to the intellectual organisations: philosophy, psychology, computer science. — М: Editorial, 2002. — 352 p.
7. Shvecov A.N. The Systems of agents: from formal models to industrial appendices / the All-Russia competitive selection of general-analytical articles in a priority direction "information-telecommunication systems", 2008. — 101 p.
8. Haken H. Printsipy of brain work: the Sinergetichesky approach to activity of a brain, behaviour and the cogitative activity. М: Publishing house Per Se, 2001. — 353 p.
9. Eshbi U.R. a brain Design. An origin of adaptive behaviour — М: SILT, 1962. — 397 p.
About this article
Authors:

Buresh O.V., Zhuk M.A.



Year:

2010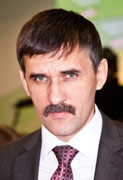 Editor-in-chief
Sergey Aleksandrovich
MIROSHNIKOV