Подача статей





Miroshnikov S.V., Lebedev S.V., Barabash, A.A., Timasheva A.B.
NONSPECIFIC ADAPTATION REACTIONS INDICATORS FOR LABORATORY ANIMALS WITH DIFFERENT LEVELS OF THYROID FUNCTION
The study of laboratory rats hemogram indicators when modeling experimental hyperthyroidism and hypothyroidism. In the peripheral blood of rats we found ealed changes characteristic of acute stress, more pronounced in rats with experimental hypothyroidism.
Key words:
experimental hyperthyroidism, hypothyroidism pilot, hemogram, nonspecific reaction of adaptation, stress.
References:
1. Aghajanian, NA, Marachev AG Bobkov, GA Environmental and human physiology / / M.: Kruk, 1998. — S.416.
2. Harkavy LH, Kvakin EB, Ukolova MA The role of adaptive responses in pathological processes and simple criteria for these reactions in humans / / regulation of energy metabolism and the body's resistance. — Pushchino, 1975. — P.172-182.
3. Harkavy LH, Kvakin EB, Kuzmenko, TS Antistress reactions and activation therapy. The reaction activation as a way to health through self-organization / / Moscow — IMEDIS . — 1998. — S. 17-63.
4. Dzhazaerli MS, Davydov VV Age peculiarities of changes in the concentration of thyroid hormones in the blood during intense physical exertion in rats with experimental hypothyroidism / Kharkiv Medical Academy of Postgraduate Education. Institute of Child and Adolescent Health Sciences of Ukraine. — 2006.
5. Trush, VV Sobolev, VI Changing the strength characteristics of skeletal muscles of white rats in experimental hyperthyroidism in the process of deepening / / Archive for Clinical and Experimental Medicine . — 2003. — V.21, № 4, p.144-149.
6. Fadeev VV Melnichenko GA Hypothyroidism. Guide for physicians / / Moscow, 2004. — S. 75-76.
7. Fadeev VV Thyroid disease in the region, mild to moderate iodine deficiency. Epidemiology, diagnosis, treatment / / Moscow — "Vidar". — 2005 . — P.14-16, 60-73.
8. Frolov, BA Physiology and pathology of the neuroendocrine regulation / / Moscow — "Medicine". — 2006. — S.192-199.
About this article
Authors:

Barabash A.A., Miroshnikov S.V., Lebedev S.V., Timasheva A.B.



Year:

2011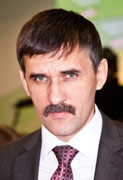 Editor-in-chief
Sergey Aleksandrovich
MIROSHNIKOV