Подача статей





Temkina V.L., Tuchkova E.Yu.
CHOICE OF PROFESSIONAL-SIGNIFICANT TASKS ORIENTED ON FORMING OF LINGUISTIC-COMMUNICATIVE CULTURE OF STUDENTS-JOURNALISTS
The authors of this article reveals pedagogical and methodological bases, principals of selection of professional-oriented tasks complex for lessons of the foreign language which promote forming of linguistic-communicative culture of students in the sphere of journalism, also they present the results of research where pedagogical conditions of linguistic communicative culture forming of future journalists are determined and relation of the process of linguistic-communicative culture forming with professional activity of specialists in the sphere of mass media is observed.
Key words:
linguistic-communicative culture, language personality, professional skills of journalists, selection of education content, professional-oriented dialogue.
References:
1. Bondarevskaya E.V. Evaluative grounds for personally-oriented upbringing/E.V.Bandarevskaya//Pedagogika. — 1995.#4. — P29-36.
2. Bibler, V.S. From Reading of Science towards Logics of Culture. Two Phylosophic introductions to the 21st century. M., 1991. — p.431-435.
3. Lisina, M.I. Problems of Ontogenesis of Communication/M.I.Lisina. — M.1986. — 142p.
4. Shein, S.A. Dialogue as the basis of pedagogical communication/S.A.Shein//Voprosy Psychologii. — 1991.#1. — P.44-52.
5. Petrovskaya, L.A. Competence in communication: socio-psycological training/L.A.Petrovskaya. — M.: Mosc. Univ. Izd, 1989. — 216p.
6. Sheilz, D. Communicationism in modern language studies. Study and teaching languages for communication: trans. From Eng./D.Sheilz. — M.: European Council Press, 1995. — 347p.
7. Agranovsky, V.A. The second ancient profession. Talks about Journalism/V.A.Agronovsky. — M.: Vagrius, 1999. — p.13.
8. Kurbatov, V.I. The art of communication control/V.I.Kurbatov. — Rostov n/D: Phenix, 2001. — 352 p.
9. Andreev V.I. Business rhetoric: practice on creative selfdevelopment of business communication, polemic and rhetoric skills/V.I.Andreev.Kazan gos Univ.: KSU, 1993. — 250p.
10. Muratov, S.A. Television in search of television: Chronicle of author's observations/S.A.Muratov. — M: IPK TV&Radio employees, Moscow State University Publishing, 2001. — 175p.
11. Anderson Jason. Role plays for today/Delta Publishing, 2006. –p.4-5.
About this article
Authors:

Temkina V.L., Tuchkova E.Yu.



Year:

2011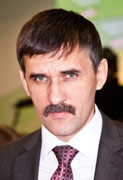 Editor-in-chief
Sergey Aleksandrovich
MIROSHNIKOV