Подача статей





Tuchkova E.Yu.
INDUCING EFFECT OF IMPROVISATION IN COMMUNICATION SITUATIONS MODELLING [№ 2 ' 2017]
Modern tendencies of language learning are focused on the formation of a man of culture, aimed at maximum result and self-realization in global information context. Activity features of communication determine the choice of educational means and techniques, which most benefit the development of communicative competence and balanced personality growth. Herewith, communication situations serve as an essential and sufficient condition for oral activity in the process of learning. The enhancement of communication situations features in the process of foreign language teaching leads to the necessity of revelation of problem-speech situations potential in the aspect of their influence on the speech activity of learners. This brings us to the phenomenon of improvisation seen as one of possible means of verbal activity intensification, as well as to the inducing effect of improvisation understood as ability to affect the length and the quality of speech in highly realistic communication situations. The main summary of the research presented is the idea that improvisation is able to form the skill of spontaneous decision making and action within the suggested situations and, thus, influences the learners' abilities to make communicative decisions and be responsible for their communication aims.
Temkina V.L., Tuchkova E.Yu.
CHOICE OF PROFESSIONAL-SIGNIFICANT TASKS ORIENTED ON FORMING OF LINGUISTIC-COMMUNICATIVE CULTURE OF STUDENTS-JOURNALISTS [№ 1 ' 2011]
The authors of this article reveals pedagogical and methodological bases, principals of selection of professional-oriented tasks complex for lessons of the foreign language which promote forming of linguistic-communicative culture of students in the sphere of journalism, also they present the results of research where pedagogical conditions of linguistic communicative culture forming of future journalists are determined and relation of the process of linguistic-communicative culture forming with professional activity of specialists in the sphere of mass media is observed.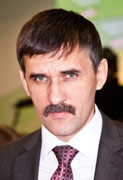 Editor-in-chief
Sergey Aleksandrovich
MIROSHNIKOV