Подача статей





Malakhova M.S.
REGIONAL NATURE AS A FACTOR OF THE SECONDARY PATTERN IN THE SPATIAL METAPHOR OF RUSSIA
This article focuses on the regionalism factor in the formation of cultural and meaningful concept "Russia" in the Russians. The concept is considered in the cognitive, cultural and toponymic aspects. Conclusions are based on the results of an experiment conducted in several regions of Russia.
Key words:
concept, place-name, regional nature, association, space, concept sphere.
References:
1. Belousov K.I. Compositional text space in the aspects of intersemiotic transformation processes / K.I. Belousov, E.A. Podtikhova// Bulletin of Chelyabinsk State University, 2009. — №39 (177). — Philology, Art criticism. — Num. 38. — p. 9-13
2. Belousov K.I. Script space and semiotic graffity potential / K.I. Belousov, N.V. Streneva // Belousov, K.I. Theory and methodology of polystructural text synthesis/ K.I. Belousov. — Flinta: Nauka, 2009. — 216p.
3. Vartanova O.A. Toponym in poetic text // Text and sentence level of stylistic analysis. — L.:LGPI n.a. Herzen, 1989. — p.22-33.
4. Vorkachev S.G. Contrastive ethnosemantics of teleonomical concepts "Love" and "Happiness" (russian-english parallels): monography. — Volgograd: Peremena, 2003. — 164p.
5. Ivanova S.G. Linguistic and cultural aspect in units of language research. Doctoral thesis in philology. Ufa, 2003. — 364p.
6. Krasnykh V.V Native among foreins: myth or reality?. — M.: ITDKG "Gnozys", 2003. — 375p.
7. Maslova V.A. Introduction to the cognitive linguistics: tutorial aid/3rd, corrected. — M.:Flinta, Nauka, 2007. — 296p.
8. Popova Z.D., Sternin I.A. Cognitive linguistics. Monography. Voronej, 2006. — 226p.
9. Slyshkin G.G. Linguistic and cultural concepts of precedent texts. Master's dissertation in philology. Volgograd, 1999. — 178p.
10. Language and national consciousness. Questions of theory and methodology. Scientific publication edited by Popova Z.D., Sternin IO.A. Authors stuff, 2002: Voronej MION, 2002. — 151p.
About this article
Author:

Malahova M.S.



Year:

2010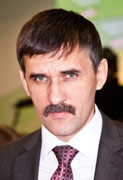 Editor-in-chief
Sergey Aleksandrovich
MIROSHNIKOV