Подача статей





Evstafiady O.V.
СONTINUED SYNTACTIC FORM WITH SEMANTICS OF CONDITION IN THE ENGLISH SCIENTIFIC TEXT
This article is devoted to the different status language forms, transferred conditional relations. The author regards continued syntactic form (CSF) and makes an attempt to reveal specificity of CSF functioning with semantics of condition in scientific texts in English.
Key words:
conditional relations, conditional constructions, continued syntactic form, scientific text, the English language.
References:
1. Alieva T.I. Explicit and implicit means of conditional modality expression in Modern French: dis…cand. phil. nauk: 10.02.05. M., 2003. — 138 p.
2. Gretskaya E.S. The role of subordinate conjunctions in the formation of modality of complex sentences with the meaning of conditionality (clauses of condition and reason) dis…cand. phil. nauk: 10.02.01. Lipetsk, 2004. — 205 p.
3. Davydova N.A. Representation of condition in the English discourse: dis…cand. phil. nauk: 10.02.04. M., 2006. — 254 p.
4. Kiselyeva N.U. Semantic and pragmatic analysis of functioning of conditionals in Modern English: dis…cand. phil. nauk: 10.02.19, 10.02.04. Kemerovo, 2005. — 195 p.
5. Kostrova O.A. Means of expression of condition in the German language: avtoref…cand. phil. nauk: 10.02.04. Yaroslavl, 1971. — 18 p.
6. Kostrova O.A. Extended syntactical form in the contact communication in the Modern German language: Isdatelstvo Sararovskogo universiteta, Samarskiy filial, 1992. — 144 p.
7. Kostrova O.A. Elementary sentence in the general syntactical field// Scientific heritage of Vladimir Grigorevich Admoni and modern linguistics — Materials of International scientific conference, devoted to 100 anniversary of V.G. Admoni (9-13, November, 2009). St. P-g.: "Nestor-Instoria", 2009. — 143-144 p.
8. Khrakovskiy V.S. Typology of conditionals / Agus Salim, T.G. Akimova, N.Y. Bulatiova et. al.; Otv. red. V.S. Khrakovskiy; Ros. akad. nauk. In-t liguist. issled. St. P-g.: Nauka, 1998. — 583 p.
About this article
Author:

Evstafiadi O.V.



Year:

2010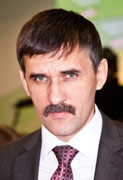 Editor-in-chief
Sergey Aleksandrovich
MIROSHNIKOV