Подача статей





Nesterenko M.Yu., Nesterenko Yu.M.
HYDROGEOLOGICAL PROCESSES AND THEIR SIMULATION IN THE REGIONS IF HYDROCARBON MINING BASED ON THE EXAMPLE OF THE SOUTH CIS-URAL
The authors examined technogenic changes in the underground waters and the geological medium of the regions of the hydrocarbon mining in the South Cis-Ural. With the development of petroleum and gas fields decrease in stratified pressure and a change in the level of stratal water is unavoidable. The hydrodynamic connection of the water-bearing horizons of the South Cis-Ural is proved. They proposed the filtrational model of the development of depression funnel in the region of the developed layers of oil and gas.
Key words:
gidrogeodynamics, seismology, the South Cis-Ural, technogenic changes, the hydrocarbon mining.
References:
1. Rezanov I.A. Deep drilling. — M.: Nauka, 1981. 160 pp.
2. Nesterenko Yu.M., Gljancev A.V. Aquifers complexes Buzuluk depression and their interaction. Refereed Journal Neftepromyslovoe delo, №12, 2007. C. 30-33.
3. Nesterenko Yu.M., Gljancev A.V. Effect of oil and gas industry in the hydrogeological system in oil and gas basins. Orenburg, Ural Research Center of RAO. / Collection of "water management problems and environmental management": Part 1. Orenburg University — r; Perm. un — t, etc. — Orenburg — Perm, 2008. — S.229-231.
4. Dyunin V.I. Gidrogeodinamika deep levels of oil and gas basins. The Scientific World, 2000. 472 pp.
5. Nesterenko Yu.M., Nesterenko M.Yu. The influence of mining on geogidrodinamiku and seismicity in the Southern Urals. Materials XV All-Russian Conference "Geologic hazard". — Arkhangelsk, 2009, pp. 333-335.
6. Sevastyanov O.M., Zakharova E.E. Features of irrigation wells and gas condensate deposits ONGKM // Gas Industry. 2004. — №10. — S. 80 — 82.
7. Chugayev R.R. Hydraulics: Textbook for higher educational institutions.– 4 ed., Ext. and pererab. — L.: Energoizdat, 1982. — 672 pp.
About this article
Authors:

Nesterenko M.Yu., Nesterenko Yu.M.



Year:

2010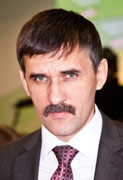 Editor-in-chief
Sergey Aleksandrovich
MIROSHNIKOV