Подача статей





Monastyrskaya G.M.
SEGMENTATION OF A BANK MARKET
The role and stages of bank market segmentation are researched in this article. The author of the article makes the analysis and gives the appraisal of development perspectives of markets of autocrediting and microfinancing and other markets.
Key words:
banks, bank market, segmentation, stages of segmentation, positioning of a bank product, bank product.
References:
1. Grishin A. Transport-bank cards: how not to pass by profit.//Analyticheskyj bankovskiy jurnal №8 2009.с 74-75
2. Kotler Ф., Amstrong G., Sonders D., Wong V. Marketing bases: Translation from English – The second European edition. – М: Spb.; К; izdatelskiy dom "Williams", 2000.-944 pages
3. Mamuta M.,Solodkov B.,Microfinancing: the childhood, adolescence...youth.// Analyticheskyj bankovskiy jurnal.-2009.-№10(173) р.48-55
4. The marketing report "the Market of cars in Russia. Results of 2009, the tendency and forecasts" Analyticheskoye agenstvo "Avtostat": press@autostat.ru
5. Nosov V. As crisis to bypass on a bend.//Promsvyazbank Dengi. – 2009. – №2 – p.44
6.Petrova U. Sberbank: faced to the client.//Pryamye investicyi. – 2010. – №4. – p.66-68
About this article
Author:

Monastyrskaya G.M.



Year:

2010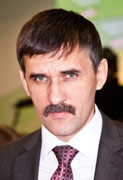 Editor-in-chief
Sergey Aleksandrovich
MIROSHNIKOV