Подача статей





Monastyrskaya G.M.
CONFIDENCE AS THE FACTOR OF THE COMPETITIVE ABILITY OF BANK [№ 8 ' 2011]
The author investigated the role of the confidence of the clients of bank in the development of bank business, the guarantee of competitive ability of bank, determined the factors, which cause the degree of the confidence of bank clients.
Monastyrskaya G.M.
EVALUATION OF THE CONCENTRATION OF BANKING MARKET [№ 13 ' 2010]
We study the evaluation of the competitive environment in the banking market. Analysis of the concentration level of the banking market in Russia by assets, capital and deposits with Herfindahl — Hirschman Index.
Monastyrskaya G.M.
SEGMENTATION OF A BANK MARKET [№ 8 ' 2010]
The role and stages of bank market segmentation are researched in this article. The author of the article makes the analysis and gives the appraisal of development perspectives of markets of autocrediting and microfinancing and other markets.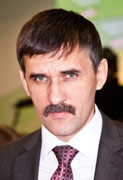 Editor-in-chief
Sergey Aleksandrovich
MIROSHNIKOV