Подача статей





Serebrovskaya T.P.
DIRECT-MARKETING OF INNOVATIONAL STUDYING
In this article the author regards direct-marketing as marketing interactive system of communications oriented on establishment of personalization interaction with consumers of educational services. The author used methods of grouping and modeling at the research.
Key words:
innovational studying, direct-marketing strategy, marketing communicative company, personalized appeal, educational market, communicative effectiveness, DM-means of communication.
References:
1. Alashkin P. All the advertising and promotion on the Internet / PavelAlashkin. - Moscow: Alpina Business Books, 2009. - 220 pp.
2. Burenina TA Marketing on Internet-based technologies / TA Burenina. - M.: Blagovest-B, 2005. - S. 152
3. Beggott K. E-mail marketing works! How to sell using one of the most powerful marketing tools /
K. Beggott. - M.: IDT Group, 2008. - S. 248
4. How to make advertising work on the business: experience of 20 leading experts. - M.: Penguin Books, 2007 .- 304 pp.
5. Musician VL Advertising in action. Strategies for moving. - M.: Penguin Books, 2009. - 240 pp.
6. Plessis, E. Psychology of advertising influence. How to effectively influence the consumers. - SPb.: Peter, 2007. - 272 pp.
7. Percy L., Elliot R. Strategic planning campaign. - M.:. House Grebennikov, 2008. - 416 pp.
About this article
Author:

Serebrovskaya T.P.



Year:

2010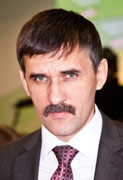 Editor-in-chief
Sergey Aleksandrovich
MIROSHNIKOV