Подача статей





Kiushina V.V.
OVERCOMING OF RESOURCE LIMITATIONS OF NATIONAL ECONOMY DEVELOPMENT
The questions of dependence between the vector of national economy development and resource base of housekeeping are regarded in this article. The essence of resource limitations of the country development is revealed. The author suggests the conception of influence on limiters allowing the solving of the problem of optimal choice for increasing of social-economic system potential in conditions of resource limitations and also gives its graphical interpretation.
Key words:
national economy, economic potential, resource potential, resources of economy, conception of resources substitution, resource-innovational process, limitations of economy development, resource limitations, limitative functions, limiters of economy development.
References:
1. Economical potential of advanced socialism / B. М. Мochalov [and others] under editing B. М. Мochalov. –М.: Economics, 1982. –251p.
2. Economical vocabulary / А. N. Azriliyan [and others] under editing А. N. Azriliyan. – II edition. –М.: Institute of new economy, 2008. –1152 p.
3. Sidnin, О. V. Methodological approaches to the research in economical restrictions of socially – labour sphere/ О. V. Sidnin // Russia in XXI century: topical question of economical development and socially – lawful sphere: Conference material/ The Volga Cooperative In-t, Engels – Engels, 2004.
4. Oleinikov, U. V. Ecological restrictions of society existence // Philosophy and о society. – 2008. –№3.
5. Hegel, V. F. Encyclopedia of the Philosophical Sciences in 3 vol.Vol.1. /V. F. Hegel. –М., 1974. – 162p.
6. Sylman, М. How to realize economical potential in Russia // Theoretical and practical management problem. – 1999. – №4.
7. Yaremenko, U. V. The theory and methodology of multilayer economy research/ U. V. Yaremenko. – М.: Science, 1997. – 362p.
8. Belomestnov, V. G. The problem of management the economical potential in socio-economic system // Contemporary economical problem, organizational systems: theory and practice of management. – 2005.– №1(13) [Internet-resource]. URL: http://www.m-economy.ru/art.php3?artid=20651.html (use date: 15.02.2010).
9. Mihailov, V. V. To the problem of social restrictions // Sociological effort. –2005. – №7.
10. Leontev, V.V. The book Robert and Heilbronel 'Between capitalism and socialism: political economy essay. Economical limit' review. –2003. [Internet-resource]. URL: http://www.wassily.leontief.net/index.html (use date: 21.01.2010).
11. Orechova, Е. А. National economy development in the present-day conditions/ Е. А.Orechova. – Volgograd: Volgograd scientific publisher, 2007. –288p.
About this article
Author:

Kiushina V.V.



Year:

2010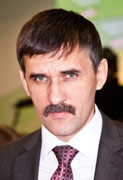 Editor-in-chief
Sergey Aleksandrovich
MIROSHNIKOV