Подача статей





Polyakov D.G.
TRANSFORMATION OF SOIL COVER OF FOREST-STEPPE ZONE OF ORENBURG PREURAL
The article covers issues of antropogenic transformation of forest-steppe chernozem of Orenburg Preural. Basing on 3 rounds of research the author describes changes in soil cover structure of the observed region caused by tillable use of land.
Key words:
antropogenic transformation, soil cover structure, leached chernozem, typical chernozem, typical carbonate chernozem.
References:
1. Afanaseva E.A. Chernozems Srednerusskoi of a height. M.: Nauka, 1966. 224с.
2. Neustruev S.S. Genesis and geography soils. — M.: Nauka, 1977. — 328с.
3. Klimentev A.I., Chibilev.A.A. Nesterenko U.M. Loghkin, I.V. Polyakov D.G. Water erosion in steppes of Southern Ural // Vodnie resursi. — volume 37, №1, January — February 2010, With. 102-112.
4. Milanovskii E.U., Shein E.V., Rusanov A.M., Zasipkina D.I., Nikolaeva Е.И., Anilova L.V. Soil structure and organic substance typical chernozem Predurala under a wood and long-term пашней // the Bulletin OSU. — Orenburg, 2005. — With. 113-117.
5. Sheglov D.I. Chernozems of the centre of Russian plain and their evolution under influence of the natural and anthropogenous factors. — M.: Nauka, 1993 — 214с.
6. Sherbakov A.P., Vasenev I.I. Ecological problems of fertility почв ЦЧО // Pochvovedenie, 1994. — №8. — With. 81 — 96.
About this article
Author:

Polyakov D.G.



Year:

2010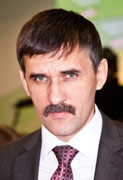 Editor-in-chief
Sergey Aleksandrovich
MIROSHNIKOV