Подача статей





Sizova Е.А.
MINERAL COMPOSITION AND MORPHOFUNCTIONAL ASPECTS OF HEPAR REORGANIZATION UNDER INTRAJEJUNAL ADMINISTRATION OF COPPER NANOPARTICLES TYPE CU10X
The article covers comprehensive analysis over changes in structure and function of hepar under intrajejunal administration of nanoparticles of metals-microelements by the example of modified copper nanoparticles in order to determine basic criterion for safety in the course of metal nanoparticles introduction in the organism of an animal aimed at coming to a conclusion of possibility of using nanoparticles of metals-microelements in creating preparations with polyfunctional and extended effect.
Key words:
hepar, nanoparticles, immunohistochemistry, chemical elements.
References:
1. KaganV.E., Tyurina Y.Y., Konduru N.V., et. al. / Direct and indirect effects of single walled carbon nanotubes on RAW 264.7 macrophages // Toxicol.letters — 2006 — p. 1-13.
2. Milto I.V., Dzyuman A.N. The structure of the liver, lung and kidney of rats with intravenous magnitoliposom // Morphology, 2009, v. 135, №3. P. 63-66.
3. Arsentiev I.P., Zotov, E.S., Arsentiev A.A., Glushchenko N.N., Baytukalov T.A., Folmanis G.E. The use of biologically active powders based on magnesium and iron in agriculture and medicine: Proceedings of VIII All-Russian conference "Physical chemistry of ultrafine (nano) systems". (10-14 november 2008 Belgorod). M. MIPhI, р.258-260.
4. Baytukalov T.A., Glushchenko N.N. Theological O.A. Olkhovskaya I.P. Studying the impact of iron nanoparticles on the content gidropiroksidov in lipids in liver during the regeneration of the skin after application of the experimental total-RAS // Proceedings of the II All-Russian scientific conference "Physical-chemical and applied problems of magnetic nano-dispersed"; — Stavropol, 2009 — р. 276.
5. Theological O.A., Sizova E.A., Polyakov, V.S., Miroshnikov S.A., Leipunskii I.O., Olkhovskaya I.P., Glushchenko N.N. Study of the safety administration of copper nanoparticles with different physical himicheskimiharakteristikami in animals // Bulletin OSU, 2009, №2, p. 124-128.
About this article
Author:

Sizova E.A.



Year:

2010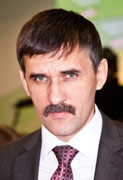 Editor-in-chief
Sergey Aleksandrovich
MIROSHNIKOV