Подача статей





Rahmatullin R.R., Baryisheva E.S., Rahmatullina L.R., Mitrofanova I.R.
BIOMATERIAL "GIAMATRIX" — NEW BIOPOLIMER BASED ON HYALURONIC ACID (EXPERIMENTAL RESEARCH )
Original bioplastic material based on hyaluronic acid with set bioengineered features has been developed. The authors study influence of the developed biomaterial on regeneration of skin integument under conditions of experimental wound.
Key words:
bioplastic material, hyaluronic acid, regeneration, bioresorption.
References:
1. Agrawal CM, et al. Biodegradable PLA/PGA polymers for tissue engineering in orthopaedica//Material Science Forum.-1997.-Р.115-128;
2. Brun P., Cortivo R., Radice M., Abatangelo G.: Hyaluronan-based biomaterials in tissue engineering. New Frontiers in Medical Sciences: Redefining Hyaluronan//Symposium Proceedings, Padua, Italy.-June 1999.-Р. 269.
3. Burg KJL, et al. Biomaterials development for bone tissue engineering //Biomaterials.-2000.№21.-Р. 2347-2359.
4. Kuzuya M., Satake S., Miura H., et al. Inhibition of endothelial cell differentiation on glycosylated reconstituted basement membrane complex//J Experimental Cell Research.- 2006.-№226.-Р. 336-345.
5. Livesey S., Atkinson Y. Call Т. et al. An acellular dermal transplant processed from human allograft skin retains normal extracellular matrix components and ultrastructural characteristics//19th Annual Meeting of American Association of Tissue Banks, San Francisco. — CA.- August 20-24.-2004.
6. Tajima K. Regeneration through nerve allografts in cynomologus monkey (Macaca fascicularis)//J. Bone Joint Surgery.- 1991.-P.172.
7. Wainwright D., Madden M., Luterman A.. Clinical evaluation of an acellular allograft dermal matrix in full-thickness burns//J Burn Care Rehabil 1996.-№17.-Р.124-136.
About this article
Authors:

Barysheva E.S., Rahmatullin R.R., Rahmatullina L.R., Mitrofanova I.R.



Year:

2010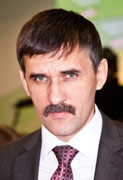 Editor-in-chief
Sergey Aleksandrovich
MIROSHNIKOV