Подача статей





Moskovzeva N.I., Mironzev O.V.
DYNAMICS OF HEMODYNAMIC PARAMETERS OF THE PATIENTS WITH OLD MYOCARDIAL INFARCTION DURING ADAPTATION TO PERIODIC ALTITUDE CHAMBER HYPOXIA
The authors study an effect of adaptation to periodic altitude chamber hypoxia (APACH) on hemodynamic parameters of cardio ischemia patients with old myocardial infarction. They compare hemodynamic after-effects due to: APACH (75 patients), combination of APACH and rehabilitation under low-hill terrain conditions (23 patients), rehabilitation course of remedial gymnastics (RCRG, 100 patients) and absence of rehabilitation measures (100 patients). It has been showed that APACH and RCRG facilitate normalization of arterial tension and heart rate. Evidentially, APACH has a major positive influence on of arterial tension parameters if compared to RCRG, though this effect is kept for several months and fades away by the end of the 1st half-year after adaptational therapy course.
Key words:
myocardial infarction, rehabilitation, adaptation, hypoxia, remedial gymnastics.
References:
1. Alyoshin I.A. Prophylaxis, treatment and rehabilitation of patients with cardiovascular diseases by adaptation to periodical hypoxia in barocamera. Autoreferat of dissertation … for doctor of medicine. — Ekaterinburg, 1993. — 23 p.
2. Alyoshin I.A. et al. The treatment of patients with arterial hypertension by the method of adaptation to intermittent hypobaric hypoxia: methodic recomendations/ Orenburg, 1997. — 14 p.
3. Aronov D.M. Cardiologic rehabilitation on the border of centuries//The Heart. — 2002. — V.1, N3. — P. 123–125.
4. Pozdnyakov Yu.M. Optimization of treatment and rehabilitation of patients with angina pectoris in outpatient conditions:
About this article
Authors:

Mironchev O.V., Moskovtseva N.I.



Year:

2010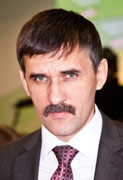 Editor-in-chief
Sergey Aleksandrovich
MIROSHNIKOV