Подача статей





Gorelik V.V.
ЕVALUATION OF PHYSICAL GROWTH AND HEALTH STATE OF COMPREHENSIVE SCHOOL PUPILS
In the observed schools the program "Express-evaluation of physical health of the pupils" has been introduced. It allows evaluating almost health pupils with different level of physical development (below the average, low, average, high, above the average) in the course of educational process. Taking this data into consideration the author gives recommendations to pupils in accordance with their level of physical development and deflections in health state.
Key words:
level of physical development, health deflection indices, evaluation of children physical health, express-evaluation of physical health of the pupils, stable functional state.
References:
1. Grombah S.M. The role of school in organizing mental health of schoolchildren. Publishing house "Medicine". — M.: 1988. — P. 131 — 139.
2. Glushkova E.K. Schoolchildren's health and educational load. M., 1983. P. 1-54.
3. Augenberg I.V. Dynamics of forming schoolchildren's psychophysical scales. //Questions of psychology. 1996. N. 1. P. 108 — 114.
4. Rusalov V.M. Psychology and psychophysiology of individual differences; some results and immediate tasks of systems research // Psychological journal. 1991. T.12. N. 5. P. 3 — 17.
5. Sitdikov F.G., Samigulin G. H. Age group week dynamics peculiarities of primary pupils' functional organism condition. // Human physiology. M. 2000. T. 26. N. 6. P. 167 — 169.
6. Sorokina T.N. Child's development in school. M., 1985. P. 8 — 17.
7. Polykov S.D. Computer technology of monitoring for schoolchildren's physical health. — M.: 2002.
8. Matveeva S.D. Approximate programmes of secondary education "Physical training" — M. Prosveshenie, 2002, P. 25.
About this article
Author:

Gorelik V.V.



Year:

2010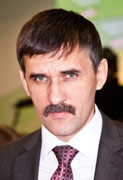 Editor-in-chief
Sergey Aleksandrovich
MIROSHNIKOV