Подача статей





Lapaev A.S.
MONEY SAVING OF POPULATION AS AN ECONOMIC CATEGORY AND FACTORS OF DEVELOPMENT OF POPULATION MONEY SAVING
The analysis of approaches of foreign and Russian economists to the determination of money saving of population as an economic category and factors of development of population money saving is given in this article. The author's determination of the concept "population money saving" is given here.
Key words:
population incomes, population money saving, factors of population money saving.
References:
1. Russian dictionary / edited by AP Yevgenieva. 2 ed. Moscow: Russian language, 1981-1984, Volume 4, pp. 32.
2. Rumyantsev EE New Economic Encyclopedia. M.: INFRA — M, 2005, s.471.
3. A. Smith, Inquiry into the Nature and Causes of the Wealth of nations. M., 1999.
4. Ricardo D. Principles of Political Economy and taxation. M., 1999.
5. "This ZB A treatise of political economy. M., 1999.
6. JM Keynes. General Theory of Employment, Interest and Money, ed. with English NN Lyubimov Ed. Ed. LP Kurakova. MM: "Helios ARV, 2002.
7. Panorama of economic thought of the late twentieth stolentiya ed. from English. VS Avtonomov, SA Afontseva. Saint-Petersburg., 2002, Volume 1, pp. 222-223.
8. Fisher I. The purchasing power of money. Izd-vo "Delo", 2001, pp. 97-98.
9. Kashin JP Savings rate in the USSR. AM: Finances, 1979.
10. Economy of the Soviet Ukraine, 1976, № 4, pp. 31-32.
11. Levin AI, Vanya AP Effective demand. M.: Nauka, 1976. 16.
12. Economics and Mathematical Methods, 1976, v. 12, Vol.3, pp. 496.
13. VTsIOM. Monitoring of public opinion. 2001, № 6, page 84 1
14. Money and monetary management. / Scientific Almanac basic and applied research. Moscow: Finance and Statistics, 2002, pp. 189
About this article
Author:

Lapaev A.S.



Year:

2010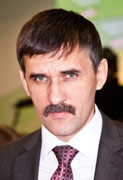 Editor-in-chief
Sergey Aleksandrovich
MIROSHNIKOV