Подача статей





Galiulina A.A.
STEADINESS OF STRAWBERRIES BREEDS TO DISEASES AND DEPREDATORS IN CONDITIONS OF BASHKIR PREDURALIE
The results of steadiness research of 10 breeds of strawberries to diseases and depredators in conditions of Bashkir Preduralie are given in this article. The steadiest breeds at these characteristics are revealed here.
Key words:
strawberries breeds, steadiness to diseases and depredators
References:
1. Grebenshchikov S.K. Reference book of plants protection for gardeners and truckers. – М.: Rosselkhozizdat, 1987. – P. 8-9; 133-141.
2. Gudkovsky V.A. Oxidative stress is the main reason of decrease of productivity and steadiness to hazardous organisms of fruit-plants / V.A. Gudkovsky, N.Ya. Kashirskaya, E.M. Tsukanova // General results and perspectives of scientific researches of VNIIS by the name of Michurin: Collection of scientific works. – Tambov, 2001. p. 3-21.
3. Zubov A.A. Genetic peculiarities and wild strawberries selection / Ed. By A.A. Zubov // Methodical instructions. – Michurinsk, 1990. – 81 p.
4. Ishchenko L.A. The role of abiotic and biotic stresses in biology of fruit and berry cultures and their pathogens / L.A. Ishchenko, I.N. Chesnokova, M.I. Kazaeva, E.E. Agarkova, M.V. Maslova, K.V. Zaitseva // Selection, introduction of fruit and berry cultures: Collection of scientific works. – N. Novgorod, 2003. – p. 12-13.
5. Program and methodics of sorts' studying of fruit, berry and nuciferous cultures. – Ed. VNIISPK. – Orel, 1999.
6. Specified project of Serafimovsky oilfield exploitation / E.N. Safonov // Worked by OOO "Bashgeoproekt", Ufa, 2006. – p. 1006-1009, 1149-1159.
About this article
Author:

Galiulina A.A.



Year:

2009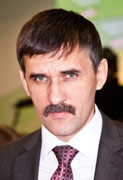 Editor-in-chief
Sergey Aleksandrovich
MIROSHNIKOV