Подача статей





Galiulina A.A.
STEADINESS OF STRAWBERRIES BREEDS TO DISEASES AND DEPREDATORS IN CONDITIONS OF BASHKIR PREDURALIE [№ 10 ' 2009]
The results of steadiness research of 10 breeds of strawberries to diseases and depredators in conditions of Bashkir Preduralie are given in this article. The steadiest breeds at these characteristics are revealed here.
Galiulina А.А.
RECOVERY ABILITIES AND PHOTOSYNTHETIC ACTIVITY OF THE GARDEN STRAWBERRIES LEAVES IN NORTH-WESTERN BASHKORTOSTAN [№ 4 ' 2009]
Based on surveys conducted in north-western Bashkortostan, the data on recovery abilities and photosynthetic activity of the leaves pertaining to 10 sorts of the strawberry was collected. The sorts were isolated that have high resistance to the damaging factors and photostress.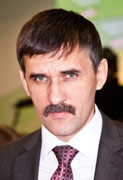 Editor-in-chief
Sergey Aleksandrovich
MIROSHNIKOV