Подача статей





Vasilieva T.N., Brudastov Yu.A.
POLLUTED WITH METAL OF SOILS OF ORENBURG CITY: COMMON PARAMETERS OF INTERACTION WITH METAL PHYTOACCUMULATION AND REPRESENTATIVES OF SYNANTHROPIC FLORA
The researches results of metal concentration (Cd, Co, Cr, Cu, Mn, Ni, Pb, Zn) in samples of soil and overground parts of plants – representatives of typical synanthropic types of Orenburg are given in this work. Conducted analysis of interaction between these parameters revealed reliable positive correlation relation between them and allowed making conclusion about more expressed bioavailability of metal-pollutions from surface layers of soil in comparison with deep, and also about more effective accumulation of cadmium, nickel and chrome in comparison with plumbum and zinc.
About this article
Authors:

Vasilyeva T.N., Brudastov Yu.A.



Year:

2007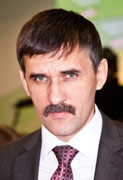 Editor-in-chief
Sergey Aleksandrovich
MIROSHNIKOV