Подача статей





Kobzev G.I., Zvereva T.V.
STABILITY THREE — AND THE TETRAINTERMOLECULAR COMPLEXES CONTAINING ATOM OF ZN (QUANTUM AND CHEMICAL RESEARCH) [№ 1 ' 2014]
Possibility of education three — and tetramolecular oxygen complexes in a gas phase at low temperatures. Method DFT/ROB3LYP/6-31 (1p, 1d) calculated geometric and electronic properties of the tri-and tetramolecular complexes which include Zn, N2, O2, H2O. MKSСF method in space (20,12) calculated energy terms equilibrium complexes 1,3(Zn — N2 — O2 — H2O).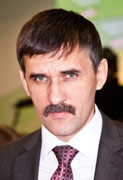 Editor-in-chief
Sergey Aleksandrovich
MIROSHNIKOV