Подача статей





Kobzev G.I., Zvereva T.V.
STABILITY THREE — AND THE TETRAINTERMOLECULAR COMPLEXES CONTAINING ATOM OF ZN (QUANTUM AND CHEMICAL RESEARCH)
Possibility of education three — and tetramolecular oxygen complexes in a gas phase at low temperatures. Method DFT/ROB3LYP/6-31 (1p, 1d) calculated geometric and electronic properties of the tri-and tetramolecular complexes which include Zn, N2, O2, H2O. MKSСF method in space (20,12) calculated energy terms equilibrium complexes 1,3(Zn — N2 — O2 — H2O).
Key words:
three-, tetramolecular oxygen complexes, electronic terms.
References:
1. Zvereva N.A., Nabiev S.S. Structure and properties of molecular complexes of water with small gas components of the atmosphere // Prod. institute of optics of the atmosphere — 2003, V.109-111.
2. Aloisio, S. and Francisco, J. S.: Radical-water complexes in Earth's atmosphere// Acc. Chem Res. 2000. — V. 50, p. 1-2.
3. Kistenmacher H., Lie G.C., Popkie H., Clementi E. J. Study of the structure of molecular complexes. VIII. Small clusters of water molecules surrounding Li+, Na+, K+, F?, and Cl? ions // Chem.Phys. 1974. — D. 546.
4. Michael W. Schmidt, Kim K. Baldridge, Jerry A. Boatz, Steven T. Elbert, Mark S. Gordon, Jan H. Jensen, Shiro Koseki, Nikita Matsunaga, Kiet A. Nguyen, Shujun Su, Theresa L. Windus, Michel Dupuis and John A. Montgomery Jr. General atomic and molecular electronic structure system// J. Comput. Chem. — 1993. — 14. — P. 1347.
5. Kobzev G. I. Dependence of a luminescence of molecular oxygen on a grade and number of the atoms which are a part of a complex, and number of molecules of an environment of oxygen// Messenger of the Orenburg state university. — 2005 . — № 1. — P. 150-156.
6. Kobzev, G. I., Minaev B. F. Indirect Effect of Environment molecules on the Sensitized Luminescence of Oxygen // Rus. J. Phys. Chem. -2005. — V. 79, Suppl. 1. — Р. S166-S171. (192).
7. Kobzev G. I., Urvayev D. G. The nature of binding and activation of molecular oxygen in the complex Mn-O2// the Magazine structural chemistry — 2006. — 47 . — T. 4 . — P.628-635.
8. Kobzev G. I. Urvayev D. G., Davidov K.S., Zaika Yu.V. Issledovaniye of photochemical processes in reaction Se + O2 → SeO2 methods of quantum chemistry taking into account backs — orbital interaction//the Magazine of structural chemistry. — 2012. — T. 53 (1). — P.18-33.
About this article
Authors:

Kobzev G.I., Zvereva T.V.



Year:

2014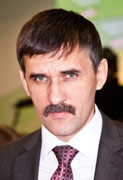 Editor-in-chief
Sergey Aleksandrovich
MIROSHNIKOV