Подача статей





Yankina N.V.
THE DEVELOPMENT OF CRITICAL THINKING IN FOREIGN LANGUAGE CLASSES AT A UNIVERSITY AS A WAY TO FORM THE INTERCULTURAL COMPETENCE OF STUDENTS [№ 2 ' 2021]
Multiculturality of the modern world assigns a special role to teaching foreign languages in higher education institutions: a future specialist is to get a high level of foreign language knowledge and skills as well as to learn how to use them to meet the challenges of professional communication with representatives of different cultures. To face these needs a university student is to develop intercultural competence, by which we mean a set of special knowledge necessary for intercultural dialogue, appropriate orientations that will ensure personal interaction based on understanding, respect, tolerance and interest to the values of another culture and a set of skills necessary for intercultural communication. While forming these abilities we should acknowledge that modern information technologies provide students with access to massive amounts of information and this charateristic of professional training actualizes the development of critical thinking skills — comprehension, analysis, systematization and evaluation of the acquired knowledge.
Theoretical and practical studies on the correlation between cross-cultural competence and critical thinking allowed us to formulate the requirements to the assignments' content aimed at developing critical thinking skills during foreign language classes: it is important to provide students with the opportunity to introduce them to the realities that are extra to their own experience and to diversify their intercultural interactions' scenario.
Observations about the changes in the students' communicative and cultural activities led us to the conclusion that critical thinking stimulates the development of such important intercultural competence skills as multicultural awareness, readiness to learn cultural diversity, positive reaction to different viewpoints, formulating hypotheses and making assumptions about partner's behavior and selecting an appropriate personal behavior model after identify similarities and differences, drawing independent and objective conclusion.
Yankina N.V.
THE STUDIES OF INTERCULTURAL CHARACTERISTICS OF RUSSIAN BUSINESS CULTURE AS A COMPONENT OF A PERSON'S PROFESSIONAL EDUCATION [№ 10 ' 2016]
Every stage of society development set up special claims to professional characteristics of employees. The results of the research conducted by The Economist Intelligence Unit, a leading analytiacl agency, demonstrated that modern processes of globalization and intergration send a challenge to professional training — a future specialist is expected to be able to cooperate with foreign colleagues. That is why professional training implies the studies of the intercultural communication basics. Since special national characteristics of a culture become more apparent in interactions, the author of the article analyzes such terms as "national culture" and "intercultural characteristics of business culture". Presented in the article the key values of Russian business culture disclose the peculiarities of Russians interactions in intercultural communication. This knowledge can assist in tracing your behavior with foreign partners, addapting to cultural differences and interpreting the results of intercultural contacts. The article presents one of the methods of comperative cultural studies, the method of case-study. It is a real-life situation of business communication that enables to analyze Russian and American business cultures and find the solutions to professional tasks by taking into account national characteristics of the given cultures. Constantly changing social and econimic life predetermines the dynamics of intercultural theory and practice. The author comes to a valid conclusion that a person should update intercultural knowledge and skills during his or her professional education and career.
Yankina N.V.
THE ROLE OF STUDENTS' INTERCULTURAL SENSITIVITY DEVELOPMENT IN PREPARING FOR SUCCESSFUL STUDIES AND PROFESSIONAL CAREER IN GLOBALIZED ENVIRONMENT [№ 2 ' 2015]
Modern system of education takes competence approach as the leading one to organize training process. The basics of this approach are the development of key competences, intercultural competence being one of them. Focusing on this essential educational outcome, the author describes the nature and development process of one of the components of intercultural competence — intercultural sensitivity. Using the Development Model of Intercultural Sensitivity by M. Bennet, the author suggests some forms of education to provide step by step development of this personal characteristic. Assuming that education in a new cultural environment will increase the general level of intercultural sensitivity, the author used Intercultural Sensitivity Index and Likert scale and diagnosed the change in the level of intercultural sensitivity development before and after students' participation in short-term study abroad programs. It led to the defining of some specific characteristics of students' educational and social activities like determination for enriching knowledge and skills of intercultural communication; demonstration of respect and understanding to different worldviews and persaptions; readiness to master various bahaviour models specified by social and cultural context; development of adaptation skills to new surroundings and norms; need for active learning of cultural diversity. Besides, there are some recommendations how to prepare students to study abroad.
Yankina N.V.
TRADITIONAL APPROACHES AND INNOVATIVE TECHNOLOGIES IN FOREIGN LANGUAGE TEACHING FOR NON-PHILOLOGY STUDENTS [№ 2 ' 2013]
The article analyses Russian and foreign approaches to foreign language methodology. The author focuses on the description of innovative technologies used while teaching non-philology students and defines their role for improving the quality of professional training.
Yankina N.V.
AXIOLOGIZATION OF THE LINGUISTIC EDUCATION AT A UNIVERSITY [№ 2 ' 2011]
Presenting historical and cultural background for intercultural interaction and its modern status, the author offers to develop university students' intercultural competence through saturation linguistic training with axiology fundamentals.
Kopieva E.A., Yankina N.V.
EXTRALINGUISTIC RESTRICTIONS STUDYING IN THE THEORY OF WORD-COMBINATION AS A FORMING COMPONENT OF A STUDENT FOREIGN CULTURE [№ 2 ' 2006]
Some cases of extralinguistic restrictions of word-combinations are regarded in this article on the material of the English literature. Address to the theme is determined with necessity of word-combination peculiarities accounting in different situations, including and intercultural situations.
Yankina N.V.
INTERCULTURAL TOLERANCE AS A COMPONENT OF INTERCULTURAL COMMUNICATION [№ 1 ' 2006]
The problem of tolerance in the aspect of intercultural interaction is regarded in this article. The author determines the types of tolerance and reveals such concepts as "acculturation", "adaptation", "policultural education" and "identity" for characteristics of intercultural tolerance.
Yankina N.V.
FORMATION OF UNIVERSITY STUDENTS' READINESS FOR INTERCULTURAL COMMUNICATION [№ 2 ' 1999]
The article presents the necessity to renew the contents and methods of foreign languages teaching, as an integral part of the university education. The understanding of scientists' experience in the fields of pedagogy, linguistics and psychology allowed the author to examine the term "intercultural communication". The author defines more precisely parameters and characteristics of intercultural communication readiness. To confirm the correctness of theoretical hypothesis, the researcher carried out the pedagogical experiment, the aim of which was to develop special skills and knowledge necessary for intercultural interaction.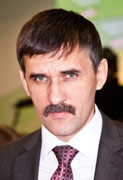 Editor-in-chief
Sergey Aleksandrovich
MIROSHNIKOV