Подача статей





Mikhailova I.V., Smolyagin A.I., Ermolina E.V., Pushkareva L.A.
INFLUENCE OF POTASSIUM DICHROMATE, BENZOL AND MIXTURE OF THESE MATTERS ON IMMUNE RESPONSE OF MICE [№ 6 ' 2009]

Chainikova I.N., Smolyagin A.I.
CYTOKINES AT INFECTIOUS PROCESS CAUSED WITH SALMONELLAS [№ 12 ' 2006]
Data of literature and results of own experimental researches about changes of cytokines products at infection caused with salmonellas including infectious process with their long persistence in organism of master are given in this article.
Mihaylova I.V., Smolyagin A.I., Ermolina E.V., Boev M.V., Boev В.М.
FEATURES OF BIOLOGICAL ACTION OF POTASSIUM DICHROMATE AND BENZENE ON RATS WHISTАR [№ 12 ' 2005]
Features of the immune and microelement status at rats Whistar are investigated at parenteral injection with potable water of potassium dichromate (К2Сr2О7), benzene (С6Н6) and a mix (potassium dichromate + benzene). It is revealed, that researched substances have immune depressive action as on parameters of blood, amount of cells in thymus, spleen, and on reaction of hypersensitivity of the slowed down type, and also cause shifts in the maintenance of microcells in blood and bodies.
Bukharin O.V., Chainikova I.N., Smolyagin A.I., Valyshev A.V., Perunova N.B., Vlasova E.V., Kalinina T.N.
CHARACTERISTICS OF LOCAL BOWELS IMMUNITY AND MICROBIOCENOSE OF PATIENTS WITH SALMONELLOSIS INFECTION [№ 5 (app.1) ' 2005]
It was revealed that evident numerical and qualitative damages of microbiocenose condition of thick bowels of patients with salmonellosis are accompanied with synchronous change of local immunity characteristics in coprophiltrates and saliva.
Chainikova I.N., Smolyagin A.I., Livshits N.M., Sapozhnikova A.V., Bukharin O.V.
INFECTOLOGICAL ASPECTS OF MODEL SYSTEM OF EXPERIMENTAL SALMONELLOSIS INFECTION [№ 5 (app.1) ' 2005]
Peculiarities of infectious process of mice (CBA x C57 BL6)F1 at enteral infection with strain S. typhimurium and S. enteritidis, were studied in this article. Salmonella strain of enteritidis stimulated more expressed changes of infectious process (lethality, organs' semination, cellular structure changes of lymphoid organs, suppression of macrophage bactericidal characteristics) and were characterized with higher level of antilactoferrin, anticomplementary, antiimmunoglobulin activity.
Timoshinova S.V., Sharapova N.V., Mikhailova I.V., Krasikov S.I., Boev V.M., Smolyagin V.I.
THE INFLUENCE OF CHRONICAL INTOXICATION WITH CHROME AND BENZOL ON ANTIOXIDANT STATUS OF RATS [№ 10 ' 2004]
The influence of chronical intoxication with chrome and benzol on antioxidant status of rats was studied in the model experiment on rats of Wistar line. Rats got these matters with water during 45 days. The chemiluminescence indexes of experimented animals were in 1.5 higher than of animals of intact group. Chronical intoxication with potassium dichromate conducted to rise of catalysis activity and superoxide dismutase on the average in 20-40 %. At the same time, the activity of superoxide dismutase depression about in 20-30% at invariance of catalysis activity on the level of intact group was marked at benzol intoxication. Thus the conclusion about different ways of realization of pro-oxidant benzol and chrome influence was made in this article.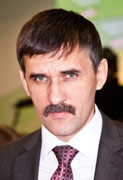 Editor-in-chief
Sergey Aleksandrovich
MIROSHNIKOV