Подача статей





Bazhina N.L., Ochur K.O., Ondar E.E., Zakharova E.G., Ryabova N.N.
HUMUS OF MOUNTAIN MEADOW SOILS OF WEST TUVA [№ 12 ' 2017]
Data on the humus composition of mountain meadow soils in the western part of Tuva, occupying the lower boundaries of the highland region of the Alashsky upland of the Western Sayan, the Shapshalsky ridge of the Western Sayan and the ridge of the Western Tannu-Ola, are summarized. Methodological features of the work consisted in the selection of soil samples, which was carried out in detail by a continuous column every 5–10 cm and(or) less within the visible boundaries of the horizons, as well as in the use of the microclimatic data: average annual air temperature, average annual precipitation and the sum of temperatures above +10 °C, calculated for each individual section, according to the regression equations derived for Tuva territory that include interrelationship of climatic characteristics with altitude above sea level, and taking into account the influence of the exposure of the slope and the wind rose. As a result of the analysis of generalized materials, the specific features of the humus composition of mountain meadow soils are revealed, depending on the ecological conditions of their formation. They consist of different contents of total organic carbon, the amount of humic acids associated with calcium, and the proportion of mobile fulvic acids in the composition of this component. At the same time, mountain meadow soils, irrespective of local conditions of functioning, within the uniform bioclimatic boundaries, have a humus-fulvate composition of humus with very close values of the ratio Cha:Cfa, which lie in the range of 0.77–0.99, but more than 50 % exceed the value of 0.9, and also a relatively high proportion of humic acids, bound clay minerals of soils (fr. HAIII), which is typical for soils that are affected by the processes of freezing. This does not contradict the generally accepted understanding of the humus composition of mountain meadow soils of other regions of Russia.
Dergacheva M.I., Bazhina N.L., Ondar E.E., Ochur K.O., Ryabova N.N.
ENVIRONMENTALLY INDUCED COMPOSITION AND PROPERTIES OF HUMIC ACIDS IN SOILS OF WESTERN TUVA [№ 10 ' 2015]
The correlation between the composition and properties of humic acids in western part of Tuva climatic parameters calculated for each individual object. It is shown that humic acids having a certain value of the ratio of H:C match as certain values of temperature and humidity (rain) at which the humic acids formed in such ratio of these forming elements.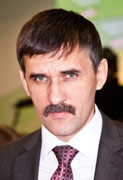 Editor-in-chief
Sergey Aleksandrovich
MIROSHNIKOV