Подача статей





Tinkov A.A., Rogachova M.N., Nikonorov A.A.
CHRONIC CONSUMPTION OF IRON AND COPPER SALTS WITH DRINKING WATER INDUCES OXIDATIVE DAMAGE OF SERUM PROTEINS AND LIPIDS [№ 6 ' 2012]
In the current experiment on female Wistar rats the influence of inorganic salts of Fe and Cu on intensity of free radical oxidation was studied. It is shown that consumption of Fe and Cu with drinking water in doses which exceed maximum permissible concentration 2– and 4-fold for three months induces free radical oxidation processes leading to cumulation of lipid peroxidation (TBARS) and protein oxidation (carbonyls and fluorescent amino acids) products. It is estimated that prooxidant action of isolated iron salts is more potent than in case of copper salts, while the combined consumption of copper and iron is more effective in inducing free radical oxidation than isolated metals.
Popova R.F., Tynkov А.А., Rogacheva М.N.
QUANTITATIVE INDICATORS FOR DORSAL ROOTS OF THE INFERIOR CERVICAL, THORACIC AND LUMBAR SPINAL NERVES [№ 12 ' 2008]
The aim of the work is to obtain morphometric characteristics of dorsal roots of the inferior cervical, thoracic and lumbar spinal nerves. The segmental change to various parameters of dorsal roots of spinal nerves was described. The data obtained might be used in applied medicine.
Anisimova S.Yu., Anisimov S.I., Rogacheva I.V.
DETACHED RESULTS OF USING OF NEW, STEADY TO DESTRUCTION OF COLLAGENIC DRAINAGE AT SUPERFICIALLY PENETRATED SCLERLIMBACKTOMY [№ 13 ' 2004]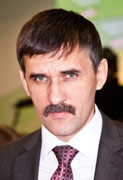 Editor-in-chief
Sergey Aleksandrovich
MIROSHNIKOV