Подача статей





Agarkova O.A., Pakhomova A.P.
PRAGMATIC ASPECT OF CIVILITY IMPLEMENTATION IN THE CIRCULAR [№ 11 ' 2014]
The article is dedicated to the civility research in the business written communication from the point of view of pragmatics. The authors define interrelation of civility and etiquette of speaking, grammatical categories, speech acts, modal words. The study of circulars reveals such civility units as nominative appellatives, passive voice constructions, imperatives, declaratives and modal words. The use of these units carries out the civility strategy and such functions in the business written communication as impact, regulating, harmonizing an dpresentation. The research allows to discover the most frequent formula of the speech etiquette functioning in greeting, invitation, request, parting speech acts. The article presents the grammatical categories of the verb used by an addressee for more effective influence upon an addresser. The modal units helping avoid the direct addresser's will, which is one of politeness strategies, are determined.
Pakhomov A.V.
SOCIAL SHAPE OF POLITICAL ELITE OF THE BASHKIR ASSR IN 1964–1991. [№ 1 ' 2014]
One of the most popular directions of modern science is the problem of studying of the Soviet political elite. In too time in some regions this subject practically wasn't studied. In particular the political elite of the Bashkir ASSR didn't receive due studying. In this article on the basis of not published earlier archival materials the complex analysis of social characteristics of political elite of the Bashkir ASSR in 1965–1991, among which national and gender structure, age, level and quality of education, length of service in a post is carried out.
Pakhomova O.I.
READINESS OF THE FUTURE CONSTRUCTION ENGINEER TO SOLVE PROFESSIONAL PROBLEMS AS A PEDAGOGICAL PROBLEM [№ 5 ' 2011]
The article addresses the definition of "readiness for professional activities", formulates the definition of "readiness to solve professional challenges of future Construction Engineers", proposes structural components and levels of preparedness.
Medvedev V.M., Pahomov E.I.
ONE OF THE WAYS TO JUSTIFY OPERATION STRATEGY FOR ANTI-AIRCRAFT GUIDED MISSILES UPON THE LEVEL OF AVAILABILITY [№ 9 ' 2008]
The article defines operation strategy basing the practice of rocket-technical provision. As a criterion for efficiency of control over the operation process they propose readiness index and value index of operation, as well as control rule of this process – the search for optimum correlation. In order to find practical solution of determining the maximum value of readiness index under cost limitations or the minimum cost value under limited readiness index, they propose the complex method of military and economic justification.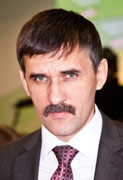 Editor-in-chief
Sergey Aleksandrovich
MIROSHNIKOV